The Navy's top acquisition official told reporters on Wednesday the new Stem-to-Stern review (S2S) continues but its initial savings may be needed just to make up for expected delays this year due to the COVID-19 pandemic.
"We haven't slowed down, at least in our efforts, on the Stem-to-Stern initiative and identifying where we may have opportunities," Assistant Secretary of the Navy for Research, Development and Acquisition James Geurts told reporters during a phone roundtable April 1.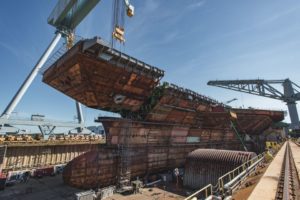 "We're continuing to press hard on that because, quite frankly, I am going to have to generate efficiency just to get all the extra work sorting out all of these programs and contracts is going to drive this summer. So we are driving efficiency to create the bandwidth we're going to need, because there will be a fairly major effort this summer ensuring that we can fairly and reasonably adjust the programs based on the impacts we're seeing here," he added.
Acting Secretary of the Navy Thomas Modly directed the S2S review in February as an effort to save $40 billion total, or $8 billion annually, over FY 2022-2026 so the Navy could better reach 355 ships at a more affordable level. This was likened to the Army's "Night Court" savings sessions, which identified billions of dollars that could be redirected to modernization (Defense Daily, Feb. 19)
Geurts said he could not yet tell how many contract actions the Navy might need this summer to correct delays, contract breaches, or other issues due to the pandemic.
However, "the services side of business I don't think will be as drastic an impact as perhaps some of the major industrial operations. But we're going to have to work our way through it."
Geurts noted this is why it is important they have worked to baseline programs so the Navy can more quickly figure out what adjustments need to be made later.
Last week, Geurts told reporters his team started baselining current contract performance earlier in March "so we can clearly understand what is a delay and disruption due to unique challenges of this situation vs. a delay that had already incurred" (Defense Daily, March 26).
On Tuesday, Geurts reiterated a previous point that the Navy is working to accelerate contract awards to keep a strong backlog of work so all contractors and suppliers at every level can maintain work and cashflow despite the pandemic (Defense Daily, March 25).
"I hear stories of second, third, and fourth-tier suppliers that were worried about how they would keep paying their salaries, and our ability to move and accelerate work into the defense base and then have that be pushed out to suppliers is absolutely critical, because if it's not there it won't matter when we're ready to recover. We need to make sure they're healthy and ready to roll as we accelerate out of recovery," Geurts said.
Geurts underscored that as each supplier and operator deals with the virus in their areas "they can do it knowing they've got work ready to go and then as soon as they're ready to go at their capacity, that work will be with them."