The Pentagon on Wednesday released its fourth and final proposal request for its initial 5G pilot programs, seeking prototypes for dynamic spectrum sharing projects at Hill Air Force Base and the Utah Test and Training Range (UTTR) in Utah.
The latest Request for Prototype Proposals (RPP) specifically covers soliciting a 5G prototype testbed to "design, construct and operate a localized, private full scale 5G mobile cellular network in order to evaluate the impact of the 5G network on airborne radio systems," finding capabilities to enhance dynamic spectrum sharing and new applications to construct a Spectrum Coexistence and Sharing system.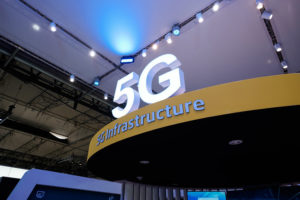 "The DoD today released the latest in a series of 5G-related request for prototype proposals, this one focused on expanding mid-band spectrum sharing. This effort will demonstrate mid-band spectrum sharing critical to our national 5G plan. Sharing technology can bring spectrum to market while protecting and enhancing future military capabilities," Joseph Dyer, National Spectrum Consortium's chief strategy officer, said in a statement.
Wednesday's RPP follows a call in mid-March seeking prototypes for augmented and virtual reality 5G projects at Joint Base Lewis-McChord in Washington (Defense Daily, March 17).
The first two 5G proposal requests were also released in March and were both focused on finding 5G capabilities for 'Smart Warehouse' projects at Marine Corps Logistics Base in Albany, Georgia and Naval Base San Diego.
Pentagon officials announced last October plans to start large-scale experimentation with 5G technology at four installations across the country to enhance current military capabilities and more rapidly deploy 5G to the force (Defense Daily, Oct. 23).
Prototype proposals for the dynamic spectrum sharing programs are due by May 15, and will only be accepted from members of the National Spectrum Consortium.
"We strongly encourage our members to collaborate and respond to these important RPPs to support innovation and make sure that the United States remains a global technology leader on 5G," Dyer said.