Lockheed Martin [LMT] has received a three-year, $426 million deal from the Army to deliver more than 350 new ATACMS missile rounds and upgrade 80 older missiles.
"ATACMS has demonstrated unparalleled system performance and reliability for our customers," Gaylia Campbell, Lockheed Martin's vice president of precision fires and combat maneuver systems, said in a statement to
Defense Daily. "These latest ATACMS rounds will support Army readiness and include the recently qualified Height-of-Burst capability to allow soldiers to address area targets at depth on the battlefield."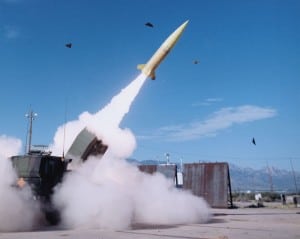 Campbell noted to meet increased demand for ATACMS the company is expanding its precision fires manufacturing facility in Camden, Ark., to include capacity to produce the missiles.
Lockheed Martin is also currently the sole competitor in the Army's Precision Strike Missile (PrSm) program, to find a replacement for ATACMS, after the service decided not to provide Raytheon [RTN] with additional funding due to technical problems with its offering (Defense Daily, March 25).
In March, Lockheed Martin conducted a second successful flight test of its PrSM offering, reaching a range of 180 kilometers during a demonstration at White Sands Missile Range in New Mexico (Defense Daily, March 10).
A third flight test with its PrSM offering is scheduled to take place on April 30.