Naval Air Systems Command awarded Raytheon [RTN] two new contracts on March 27 worth a total $641 million to modernize and produce the maritime Tactical Tomahawk (TACTOM) missiles.
One is a cost-plus-incentive-fee, cost-plus-fixed-fee, firm-fixed-price, indefinite-delivery/indefinite-quantity $494 million contract for recertification and modernization of Tactical Tomahawk (TACTOM) Block IV all-up round missiles. This also includes integrating navigation and communication kits that result in a modernized TACTOM Block V missile.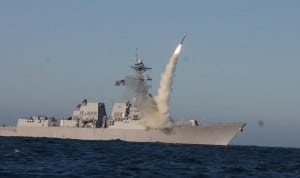 In 2017, the Navy awarded Raytheon a $119 million contract to start integrating an enhancement on the Tomahawk Block IV to make it able to hit moving sea targets at a Block V Tomahawk (Defense Daily, Sept. 12, 2017).
When that initial contract was awarded, Raytheon said it expected to deliver the new capability with a new seeker by 2022.
According to a Raytheon Tomahawk website, the Block V effort is proceeding in three stages to extend its life by 15 years and add capacity. Block V modernizes the missile with upgraded navigation and communications, Block Va can strike moving targets at sea, and Block Vb adds a joint multi-effects warhead to hit more diverse land targets.
Last year, Navy officials said they were bridging the gap while waiting for the new Tomahawks by refurbishing and recertifying Boeing [BA] anti-ship UGM-84 Harpoon missiles (Defense Daily, Feb. 14, 2019)
The Defense Department contract announcement noted this new award also "provides for spare recertification, obsolescence and health monitoring, TACTOM depot, flight test and engineering support services alongside associated hardware procurements."
Most of the work will occur in Tucson, Ariz. (48.7 percent) and Boulder, Colo. (18.9 percent) and is expected to be finished by September 2023.
No funds were obligated at award time, but will be given on individual task orders as they are issued.
Raytheon also won a $148 million fixed-price-incentive-firm-target, firm-fixed-price contract for full rate production and delivery of 90 Lot 16 Block V TACTOM all up round Vertical Launch System missile and other related hardware and services.
The award announcement noted the contract also procures TACTOM Block IV AUR recertification AGR-4 Spares.
Work will mostly be performed in Tucson (40 percent); Walled Lake, Mich. (14.4 percent); and Gainesville, Va. (9.9%), and is expected to be finished by August 2022.
The full funding was obligated at time of award via fiscal year 2020 Navy weapons procurement accounts, with none expiring at the end of this fiscal year.
Neither contract was competitively procured.