SAN DIEGO — The Navy is going to start putting anti-ship Harpoon missiles on Los Angeles-class (SSN-688) submarines this year until the new anti-ship Tomahawk is ready for use on the submarines in about five years, a top service official said Tuesday.
This initiative to refurbish and re-certify the
Boeing [BA]-made anti-ship UGM-84 Harpoon is meant to help the Navy "seize the initiative" in long-range combat with near-peer competitor ships.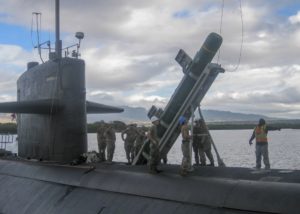 "So we are bridging a gap to our maritime strike Tomahawk in the interim with bringing Harpoon back," Rear Admiral Daryl Caudle, commander of the Submarine Force for the U.S. Pacific Fleet, said at the annual AFCEA West 2019 conference here.
In 2017, Tomahawk builder Raytheon [RTN] won a $119 million Navy contract to start integrating an enhancement to the Tomahawk Block IV to make it able to hit moving sea targets, focusing on a new multi-mode seeker (Defense Daily, Sept. 12, 2017).
While the Navy decommissioned the anti-ship Harpoon over a decade and a half ago, "we made a decision that we still needed a little bit more stand-off capability. So we tasked our technical community to build a system to bridge" to the Tomahawk, he said.
In December the Navy posted a notice of intent to FedBizOpps to sole source Harpoon refurbishment, repair, upgrade, and recertification to Boeing for use on the SSN-688 submarines.
Caudle noted the Navy conducted a successful launch of a Harpoon off a submarine during RIMPAC 2018 this past summer.
At RIMPAC, the USS Olympia (SSN-717) fired a Harpoon at the ex-USS Racine (LST-1191) in July 2018, the first time a Harpoon was fired from a U.S. submarine in over two decades.
Caudle explained the Navy will use the 120 anti-ship Harpoons they have remaining over a five-year timeframe, adding them to five to seven submarines in a year.
"I'm expecting to see that, kind of kicking off in the next year, and probably maybe about 5 to 7 submarines will get that in the next spiral development."
Caudle said if he had to, he could put the temporary missiles on any of the Los Angeles-class submarine combat control systems to fill the need quicker, but that would not take in to account how to mix torpedo tube loads.
Caudle said the Navy always has to balance torpedo tubes and Harpoons will have to be balanced with Mk 48 Advanced Capability (ADCAP) torpedoes and special equipment for special missions.
"That's going to be a delicate balance based on what the mission planning is and the expectation on the respective COCOM (combatant command) where that submarine's being deployed."
The Navy is still in a robust spiral development, with continuous improvements to the combat control systems, "so that's how we're kind of handling that piece," Caudle added.