The Navy's top acquisition officer is closely watching for disruption on contract work due to the COVID-19 pandemic, directing programs baselined before the virus impacted industry while also keeping a close watch on more vulnerable small businesses.
"One of the key actions for the program teams early last week was to baseline current performance so we can clearly understand what is a delay and disruption due to unique challenges of this situation vs. a delay that had already incurred and making sure we can clearly understand which is which so that as we come out of this we can work our way through those adjustments as necessary," James Geurts told reporters during a phone roundtable on Wednesday.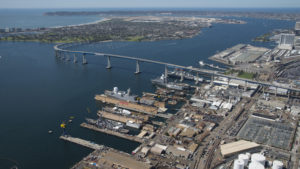 He said this baselining is important because "that will allow us then as we understand impacts to then adjudicate where impacts occurred pre vs. post virus."
Geurts said the Navy is tracking COVID-19 impacts closely at both the major program and micro supplier levels and is seeing different issues cropping up.
"I would say we're seeing a tightening on the supply base as smaller shops deal with their local situations. We've got a pretty good view on that with some of the real time systems we're using. I think you'll see a tightening in the supply base," Geurts said.
While the larger industrial operations are challenging, "I would also say there's challenges in the small operations where if one person gets sick in a six-person shop, you don't have a lot of resilience there either. And so ensuring we're smart across the whole base is what we're all working toward."
In contrast, the major industrial operations will have more site-dependent issues. However, he does expect some delays and disruptions.
"We're trying to make sure we have a clear understanding of that and we can separate."
Geurts said he has previously undertaken a wartime planning effort to best understands the defense industrial base's health, which is helping them track issues as they emerge.
"All of that has become very critically important both from a mindset as well as a tool standpoint. We've got great tools now that are built – we can understand where there's disruption in the supplier base, how that might impact programs. We overlay that with the latest information on where we're seeing work disruption and that gives us a sense at both the large system level where we might see problems as well as in supplier side where we might see problems."
When asked about when it sees disruptions in specific areas and how the Navy is prioritizing work, he used a public shipyard example.
"If I have a ship that's due out to go to a strike group in the next couple weeks, I might prioritize that over a decommissioning action or something where I've got a little more flexibility," Geurts said.
"And then also being very sensitive to anything we stop outright can be very hard to restart outright, and so trying also to balance that we don't have an area where we're completely stopped because that creates a lot of energy to restart it."
Geurts underscored the service is paying special attention to the Columbia-class ballistic missile submarine and Ford-class aircraft carrier.
"We're watching Columbia very closely and all the key elements of that missile tube and everything else. And that may be an area where, if there's resource contention or whatnot that we're going to have to ensure that we prioritize that work. Have not seen any major impacts to that work yet, but we are tracking it very closely."
Geurts underscored he is in regular contact with the CEOs of major shipyards to address their concerns and help share best practices that keep work on schedule but keep the workforce healthy amid the pandemic.
"I'm very grateful and quite frankly inspired by the openness across our defense industrial base to have a frank sharing of best practices and partnering together on how to work our way through this."
He noted some examples include spreading work in a shipyard across multiple shifts and having people work earlier and later than usual to minimize the number of people working in the same space.
Geurts also said the department is trying to accelerate and push out contract awards faster to help industry prepare for the pandemic restrictions. That aims to maintain work and cashflow so when delayed companies get back to full speed after recovering from the virus impacts there will be no lag in ramping up work (Defense Daily, March 25).
He said he has also spoken to prime contractor CEOs to make sure the flow of contracts and work to companies also flows down to the subcontractor level.
"I'm very concerned about some of our smaller suppliers who will likely feel the pinch the greatest, the fastest and so we're all working together to ensure that we can continue to infuse the defense industrial base, remove barriers, free up funding that we already had in the system, and then where possible accelerate awards and ensure we've got all the work backlogged and ready to go."