The Navy is looking to buy aircraft engines and conduct aviation work faster than planned to take advantage of the slowdown in the commercial sector due to the COVID-19 pandemic, the service's top acquisition official said on Tuesday.
"Obviously commercial aviation is still remarkably challenged and remarkably important because we do get a lot of benefit in the DoD from the commercial aviation sector from those companies that work in both areas. So we're working closely with them," Assistant Secretary of the Navy for Research, Development and Acquisition James Geurts told reporters during a phone roundtable.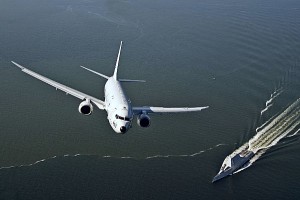 Geurts said the Navy and the entire Defense Department is focusing on aviation propulsion.
"I would say propulsion is an area of key effort right now with our propulsion contractors. We're working closely with our partners in the other services so we have a whole-of-DoD approach to those companies and those efforts."
Last week, Undersecretary of Defense for Acquisition and Sustainment Ellen Lord said aviation was one of three major defense acquisition programs delayed by three months due to pandemic impacts (Defense Daily, April 20).
She said aviation is the "most highly impacted sector we have right now."
Several Boeing [BA] facilities were closed for several weeks each over the past month. Its Puget Sound, Wash.-area facilities that build the Air Force KC-46A Pegasus tanker and Navy P-8A Poseidon maritime patrol aircraft were closed for three weeks while its Philadelphia-area facilities where it builds the Army CH-47 Chinook helicopter were sidelined for over two weeks.
Geurts said DoD's effort is less about awarding new department-wide contracts but using available tools to create the right strategies for advanced order and rephasing work.
"I think it's less about new contracts and more about synchronizing. So I don't see it as a giant DoD-level contract. I think it's more about synchronizing efforts and working closely with my counterparts in the other services so that we're working together to get the maximum benefit and I think that's more of an alignment of strategies and tools than a large new kind of joint contract," Geurts said.
One example is "we may not have planned to buy the engine for three months but maybe we can buy it now and gain some efficiency."
He specifically cited the possibility of using this commercial slowdown with the Boeing P-8A Poseidon, which is a modified Boeing-737 aircraft.
"We're looking at it from a spare parts perspective, where particularly dual use parts that could be a P-8, for example, where there may be parts available now. And we're also looking at it from a repair capacity. Is there capacity to repair parts faster than we had previously expected and can we adjust some of our activities that way?"
However, he acknowledged this work is limited.
"They'll be a natural limitation of funding and whatnot so we can't do that infinitely, but we're looking to leverage all the different toolsets we have."