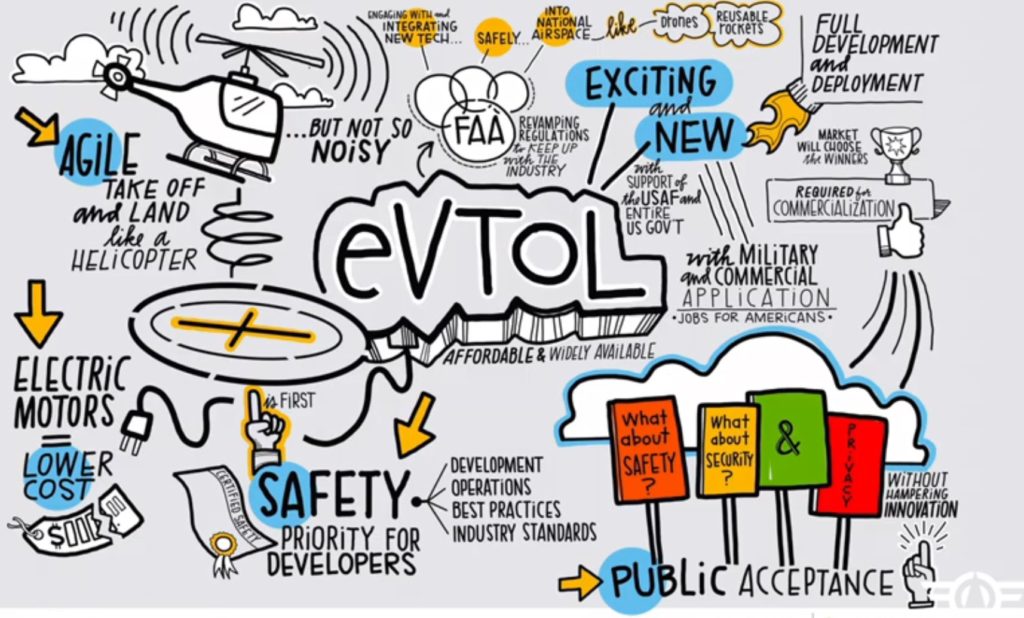 The Air Force released two new challenge-based contracting opportunities for electric vertical takeoff and landing aircraft under its Agility Prime line of effort, seeking out nontraditional defense companies with commercial prototypes that are already in the air.
The first new challenge area, or AOI, seeks eVTOL aircraft capable of carrying 1-2 people more than 10 miles at a speed of at least 45 mph. There are a few commercial UAM aircraft currently under development that are relevant to these requirements, including Wisk's autonomous two-seater, Cora, and Opener's ultralight BlackFly.
The second AOI released this week by Agility Prime targets unmanned cargo eVTOLs with a maximum gross takeoff weight greater than 1,320 pounds and a payload exceeding 500 pounds. Qualifying aircraft must have a range over 200 miles, cruise speed greater than 100 mph, and an endurance over 100 minutes.
To qualify for either AOI — or the first one, released earlier this year, for larger 3-8 passenger eVTOLs — the aircraft must make its first full-scale flight prior to Dec. 17, 2020. However, as part of its mission to explore and understand the commercial progress in this new area, the Air Force intends to work with relevant technologies and aircraft, even if they fall outside of these defined AOIs.
"The intent is not to have a requirements document," said Col. Nathan Diller, Agility Prime team lead, during the programs' virtual kickoff event. The Air Force's five goals for aircraft and systems to be studied and potentially procured through the program were listed: mechanical simplicity, for lower maintenance cost and time; autonomy, for improved safety and demands on personnel; ease of mass production; distributed propulsion, for improved acoustics; and runway independence.
Through Agility Prime's "air race to certification" challenges, the service also hopes to transition one or multiple eVTOL aircraft to production through more traditional contracting, aiming to initiate a program of record or make a fielding decision by 2023, according to Natasha Tolentino, Agility Prime program manager.
Though a number of Air Force presenters gave broad examples of military use cases for eVTOLS — lower costs than helicopters, enabling distributed logistics and sustainment, greater freedom to maneuver — the service is still determining exactly what it plans to do with these aircraft.
"I truly believe there is a requirement for this, we just don't quite know what it is yet," said Lynda Rutledge, Air Force Air Mobility program executive officer, using her iPhone as an example of next-generation technology that was not built to requirements that existed at the time.
Agility Prime is structured to assist commercially-focused eVTOL aircraft developers through the "valley of death between technology demonstrations and fielding," said Rutledge, through testing and certification assistance that will hopefully translate to quicker commercial certification with the Federal Aviation Administration (FAA).
The Air Force plans to work closely with the FAA to translate commercial certification requirements into military ones and vice versa, said Frank Delsing, flight test lead at Air Force Research Laboratory.
"We actually have in Nebraska … a military certification office (MCO) whose sole responsibility is to give us that kind of transition between FAA and DoD air worthiness," said Delsing. "So when we go to buy civilian-derivative aircraft and we turn them into military aircraft, that MCO helps us with that transition between an FAA-type certificate and a military type certificate … And that's one of the other reasons that we are so committed to helping the [vendors] in this industry get to their FAA certification, because that only makes it easier for us in the long run."