The newest aircraft carrier, the USS Gerald R. Ford (CVN-78), completed its Flight Deck Certification (FDC) and Carrier Air Traffic Control Center (CATCC) Certification on March 20 after completing 1,000 aircraft launches and recoveries.
To prove the ship capabilities, the carrier both finished a Precision Approach Landing Systems (PALS) certification and conducted 123-day and 42-night catapult launches and trap recovering over two consecutive days of flight operations. The minimum requirements were to complete the PALS certification and conduct at least 50 day traps on day one and 70 day traps and 40 night traps on day two.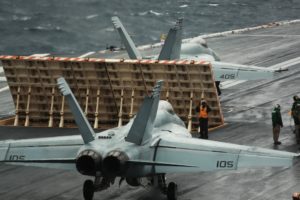 "Our Sailors performed at a level that was on par with a forward deployed aircraft carrier, and this was a direct result of the hard core training and deployment ready mentality we have pushed every day for the past year," Capt. J. J. Cummings, Ford's commanding officer, said in a statement.
A Navy news release said PALS combined with air traffic controllers in CATCC to help pilots execute bad weather or night landings by guiding them to a good starting position for approaches and is a requirement for ships to conduct flight operations.
"Our system performed really well during our approaches, and provided a solid level of confidence to [Naval Air Warfare Center Aircraft Division] in our ability to recover jets," Cmdr. Phil Brown, Ford's air operations officer, said in a statement.
Ford completed a case III recovery scenario during certification, which required aircraft to be stacked behind the ship in two mile increments to land on the flight deck every minute. The Navy noted this is "a challenging task required of deployment-ready aircraft carriers. Ford was able to trap aircraft 55 seconds apart."
The Navy underscored with the completion of FDC and CATCC certifications, CVN-78 will now be the only carrier qualification asset regularly available on the East Coast for the remainder of 2020.
The certifications were completed a day after the Ford completed its 1,000th recovery and launch of fixed-wing aircraft using the new Advanced Arresting Gear (AAG) and Electromagnetic Aircraft Launch System (EMALS) on March 19.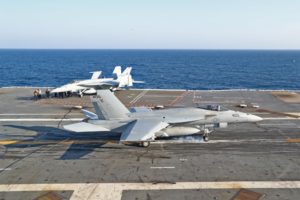 The milestone occurred two and a half years after the first launch and recovery of fixed wing aircraft, an F/A-18 F Super Hornet, using AAG and EMALS (Defense Daily, July 31, 2017).
"I couldn't be more proud of our crew, their motivation is amazing. We've been working extremely hard to get here today, and to see this 1,000th trap completely validates their efforts and the technology on this warship," Cummings said in a statement.
Previously, in January, the Ford conducted its second and final round of aircraft testing, Aircraft Compatibility Testing (ACT), where it launched and recovered 211 aircraft across five different air frames. ACT was the first of 11 underway periods the Navy plans for CVN-78 to undergo during its Post Delivery Test and Trial period (Defense Daily, Feb. 5).