The vice chair of the House Armed Services Committee (HASC) on Monday argued against the repeating idea of retiring an aircraft carrier early to save money.
While speaking during a Hudson Institute event, Rep. Elaine Luria (D-Va.) said a rumor is brewing in the background asking "would it save money to decommission an aircraft carrier halfway through its lifecycle? You know, people can make an argument that I don't buy, that says look, we'll save some money immediately because we won't spend money to refuel it."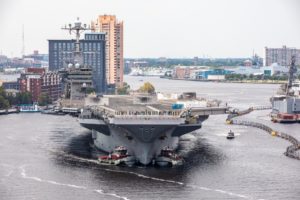 Luria said she does not buy that argument given how much sunk cost was invested in the carriers assuming another 25 years of life left in them after their refueling period.
In 2019, the Trump administration planned to cut the refueling of the USS Harry S. Truman (CVN-75) to redirect funds to new technologies. At the time the Navy said it expected to save about $3.4 billion within the following five-year period plus $2 billion in procurement after that and $1 billion per year in operations and maintenance costs (Defense Daily, March 26, 2019).
However, after stiff Congressional opposition, the administration changed course and announced the ship would not be retired early (Defense Daily, April 30, 2019).
A recent report from USNI News said the Pentagon is again considering reducing the carrier force as part of the Biden administration's fiscal year 2022 budget request, including possibly again retiring the Truman early.
During the event Luria was asked if she has received any briefs or discussed the issue with the Defense Department given the new administration.
"I would say that at this point, it is only speculation and this is really not the first time that this has come up either with the Harry S. Truman or previous refuelings. It seems like when there is discussion of finding efficiencies, this is one of those things that gets revisited over and over again."
Luria emphasized that "I will fight for the same outcome as (last Congress) – you know, we invested a lot in our carriers and it's not time to decommission them halfway through their life."
She said the carrier fleet is vital and already stressed, noting two additional carrier strike groups just deployed back to back to meet requirements for deterrence and presence in the Middle East and Western Pacific.
Luria said decommissioning is not a money-saving proposition given these factors and by law the Navy is supposed to have 11 carriers and there is no intention of changing that in Congress.
"The bottom line is getting rid of ships when you're trying to build the Navy is not a smart decision and I would like justification as to why we're planning to."
Luria serves on the HASC Seapower and Projection Forces subcommittee and represents parts of the Norfolk and the Hamptons roads region, which is where the carriers are built by Huntington Ingalls Industries Newport News Shipbuilding [HII].