The Navy awarded Swiftships LLC a $50 million modification to build four more Landing Craft utility (LCU) transportation boats as the service accelerates releasing contracts amid the COVID-19 pandemic.
The award is exercising an option to construct LCU boats 1703-1706. The LCU 1700-class boats will replace the existing 32 LCU 1610-class of amphibious landing craft on a one-to-one basis.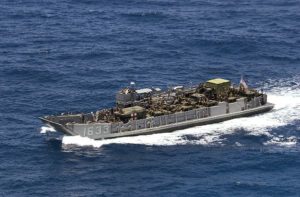 The contract announcement noted LCU 1700s will recapitalize the LCU 1610s as a similarly rugged steel craft with a design life of 30 years.
The announcement argued the new landing craft "will be a highly reliable and fuel efficient, heavy-lift platform with complementary capabilities to the faster air cushion landing craft which have a significantly shorter range, smaller payload capacity, no habitability and operating hour limitations."
According to a Navy factsheet, the LCU-1700 is 134 feet long, can reach speeds of 11 knots, has a range of 1,200 nautical miles, and has a crew of 13. It can carry two Humvees, one Stryker Combat Vehicle, 100 troops, or 60 short tons of cargo.
The Navy's top acquisition official last week told reporters this LCU award is an example of how the service is trying to accelerate contract awards to help companies deal with the pandemic and expected supply disruptions.
Last week, the Navy acquisition chief said the service was accelerating contracts to help companies in the defense industrial base prepare for the pandemic to maintain work and cashflow when they recover from any work restrictions (Defense Daily, March 25).
Congress previously funded the Navy's request for four LCU-1700 boats in FY 2020 while the service's FY 2021 budget request plans to buy five more LCU-1700s for $87 million next year (Defense Daily, Feb. 10).
Work will occur at the company's facility in Morgan City, La., and is expected to be finished by October 2022.
The full contract amount was obligated at time of award via FY 2020 Navy shipbuilding funds and is not set to expire at the end of this fiscal year.