Navy leaders Tuesday confirmed Large Scale Exercise (LSE) 2020 has been postponed a year due to the COVID-19 pandemic and they are still considering if other events like RIMPAC will be moved.
"That exercise [LSE] will be postponed. There are other things that we will do and continue to do now. So we just did dual carrier operations in the Central Command AOR within the last week. We did a very large exercise with the Air Force over the Philippine Sea. We're doing stuff in the Mediterranean as well with our destroyers. So we will continue, wherever possible, continue to train in numbers as we can," Chief of Naval Operations (CNO) Adm. Michael Gilday said during a press conference Tuesday.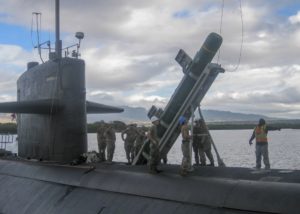 Previous CNO Adm. John Richardson's Design for Maintaining Maritime Superiority 2.0 document called for the LSE in 2020. Then, in December, Gilday released a fragmentary order updating the Design 2.0 document that maintained LSE 2020.
Gilday's document said LSE 2020, originally set to take place later this year, would be used to learn from fleet battle problems and would start restoring annual LSEs to help operate, train, and experiment with large force elements.
Acting Secretary of the Navy Thomas Modly said at the press conference they had not yet decided if they will postpone the upcoming 27th annual Rim of the Pacific (RIMPAC) international exercise slated for this summer.
"To date, no decision has been made on that, we're still considering that and we're all watching this thing very closely to see what direction it will head," Modly said.
RIMPAC is a biennial international exercise that occurs off the coast of Hawaii and generally occurs between late June and early August. The last RIMPAC was in summer 2018.