The Navy administratively commissioned the Virginia-class submarine USS Delaware (SSN-791) on April 4, canceling the traditional ceremony due to the COVID-19 pandemic.
The Navy noted it is transitioning the submarine to normal operations and is looking at a future opportunity to commemorate the event with the usual commissioning ceremony events. SSN-791 is the last Block III submarine model.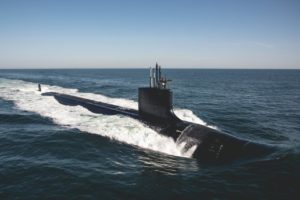 "The U.S. Navy values the support of all those who contributed to today's momentous milestone and will look for a future opportunity to commemorate this special event," Vice Adm. Daryl Caudle, commander, Submarine Forces, said in a statement.
"The sailors of USS Delaware hail from every corner of the nation and from every walk of life. This crew, and the crews who follow, will rise to every challenge with unmatched bravery and perseverance to ensure the U.S. Submarine Force remains the best in the world," he added.
The Navy underscored this is the first time it will have a vessel named Delaware in almost 100 years and will be the seventh Navy ship and first submarine to have the state's name.
SSN-791's keel was laid April 2016, was christened in a ceremony in October 2018, and is expected to operate for over 30 years without refueling.
Shipbuilder Huntington Ingalls Industries [HII] finished initial sea trials on the Delaware in August (Defense Daily, Sept. 3, 2019).
The sub was then delivered to the Navy last October (Defense Daily, Oct. 31, 2019).
As the last Block III Virginia-class boat, the next submarines will be in the Block IV configuration. The Navy previously described Block III vessels as designed for affordability at a rate of two per year. Block IV vessel designs will likely have special operations and unmanned systems integration (Defense Daily, May 15, 2019).
Last year, HII President and CEO Mike Petters said company income was down partly due to higher costs than expected with SSN-791 as the final Block III vessel while they were also going through higher costs than expected on the first Block IV submarine, the future USS Montana (SSN-794) (Defense Daily, Feb. 14, 2019).
Last November, Program Executive Officer for Submarines Rear Adm. David Goggins said those submarines had delayed deliveries because shipbuilders were increasing production from one to two vessels per year (Defense Daily, Nov. 6, 2019).