The Army is aiming to complete the critical design review to inform procurement decisions for its first tactical network modernization capability drop (CAPSET 21) by the end of April with contracts for individual capabilities to be awarded shortly after, an official told Defense Daily on Monday. 
Paul Mehney, spokesperson for Program Executive Office Command, Control, Communications-Tactical (PEO C3T), said the COVID-19 pandemic has not impacted planned Integrated Tactical Network (ITN) procurement decisions, while causing some delays to scheduled testing and fielding.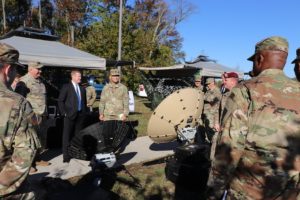 "Due to COVID-19 travel and telework restrictions, network modernization fielding, platform integration, unit training and test planning has been impacted. At this time, future  ITN procurement decisions are not expected to be impacted by test delay as data collected during the events would only be used to characterize future network design such as long-term basis of issue and types of radios needed at echelon," Mehney said.
The Army's plan to overhaul its tactical network is built around capability drops every two years beginning with CAPSET 21, to better keep pace with industry's technology innovations, and will include network transport capabilities, mission command applications and command post computing environments.
"To inform the design review, the Army collected large amounts of data through multiple test events before COVID-19 work and travel restrictions were implemented. During the past several years, the Army conducted multiple battalion and brigade-level experimentations and validated network functions for voice and data delivery. In addition to data collected from experiments involving soldiers, the program also has extensive data generated from lab based experimentations that will aid in making program decisions," Mehney said.
L3Harris [LHX] told Defense Daily recently the company is readying for the Army's ITN evaluation in late summer that will utilize its software-defined AN/PRC-163 handheld radios and AN/PRC-158 manpack radios to provide key pieces of the new Integrated Tactical Network under the Leader radio program, which also includes Collins Aerospace [UTX] and France's Thales (Defense Daily, March 31). 
Mehney noted that the Army's network modernization leadership has utilized new methods to maintain communication lines with industry partners during the pandemic.
"The program office is using remote communication methods to maximum effect to ensure design reviews, procurement decisions and system acquisition and contacting orders proceed and decisions are communicated to stakeholders and industry," Meyney said.