Naval Air Systems Command awarded Raytheon Technologies [RTX] and its subsidiary Pratt & Whitney a $291 million contract F-35 Joint Strike Fighter Lot 12 engine maintenance support.
The contract specifically entails material and support equipment for "depot maintenance facilities, program administrative labor for non-recurring sustainment activities, mockup engines and modules for test cells, as well as supplies, services, and planning for depot activations."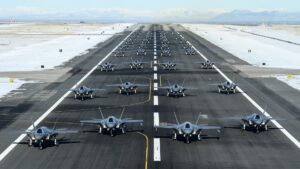 This is all in support of the F-35 Lot 12 propulsion systems for the Navy, Marine Corps, Air Force, non-Department of Defense participants, and Foreign Military Sales in support of the F-35 Lightning II Program Lot 13 propulsion system for the Navy, Marine Corps, Air Force, non-Department of Defense (DoD) participants and Foreign Military Sales (FMS) customers.
Lot-12 includes 157 total F-35 aircraft in all three configurations in a deal originally agreed to in 2019 (Defense Daily, June 10, 2019).
Work will mostly be split among Oklahoma City, Okla. (30 percent); East Hartford, Conn. (22 percent); various locations outside the continental U.S. (21 percent); Cherry Point, N.C. (10 percent); and Indianapolis, Ind. (6.75 percent) and is expected to be finished in January 2024.
Funding obligated at the time of award is split among $89 million in the FY 2020 Navy aircraft procurement account; $84 million in FY '20 Air Force aircraft procurement account; $45 million in non-DoD participant funds; and $16 million in FMS funds. None of this funding will expire at the end of this fiscal year.
Pratt & Whitney produces the F135 engine in two variants for the F-35: a Conventional Take-Off and Landing variant used in the F-35A and F-35C aircraft and a Short Take-Off Vertical Landing (STOVL) variant used in F-35Bs.
Lockheed Martin [LMT] is the prime contractor for the overall aircraft.