The Army will agree to move BAE Systems' M109A7 Self-Propelled Howitzer into full-rate production in January
after officials confirmed the company was able to meet future delivery schedules, a service spokeswoman told Defense Daily. 
Ashley John, PEO Ground Combat Systems' director of public and congressional affairs, said program officials have determined BAE Systems has met all full-rate production requirements for the latest version of the howitzer.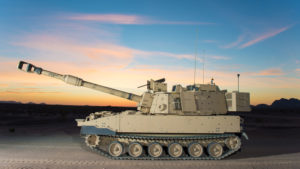 BAE Systems recently received a $249 million low-rate production order that covered 60 M109A7 howitzer systems as well as 60 M992A3 Carrier, Ammunition, Tracked (CAT) vehicles (Defense Daily, Dec. 18).
John said the latest deal, which extended the Army's original LRIP contract with BAE Systems, was to ensure there was no break in vehicle production leading up to the January agreement. 
"BAE's delivery performance has improved and we expect to see delivery of the required eight vehicles in December – a month that contains less production days than the average month due to holiday schedules," John said. 
The Army awarded the initial contract for the M109A7 in 2017 and the latest deal raises the LRIP program total to $1.2 billion and 156 vehicles. The latest version of the howitzer includes a new chassis, engine, transmission, suspension, steering system and a new high voltage architecture.