The final defense appropriations bill includes a provision requiring the Secretary of the Navy to create a maintenance delay report for naval warships after years of delays going back to the Obama administration.
The bill report notes that while completing maintenance on time is "integral to supporting fleet readiness, meeting strategic and operational requirements, and ensuring the Navy's ships reach their expected service lives," several reports show the Navy still faces continuous maintenance delays that affect its efforts and threaten attempts to restore readiness.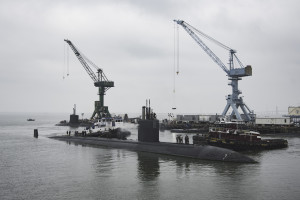 It underscored since fiscal year 2014 ships have spent 27,000 more days in maintenance than expected, with 70 percent of maintenance periods on average experiencing delays.
While Congress notes "preliminary evidence that the Navy has begun pilot efforts to analyze maintenance challenges for some elements of the fleet," it says these efforts are not comprehensively examining root causes of delays across the entire fleet.
"Absent such an analysis, the Navy is not well positioned to develop a plan to address its persistent maintenance delays," the report continues.
Therefore, it directs the Navy Secretary to assign responsibility to conduct a comprehensive and systemic analysis to identify the underlying causes of aircraft carrier, surface ship, and submarine maintenance delays. A report on the findings is due to the congressional defense committees and Government Accountability Office (GAO) within 180 days after the bill passes.
The bill says the report must include "results-oriented elements, including analytically-based goals; metrics to measure progress; and the identification of required resources, risks, and stakeholders to achieve those goals."
Thereafter, the Secretary has to update the congressional defense committees annually on progress to achieve the goals of the plan. The Comptroller General of the U.S. is also directed to submit a review of the report to the defense committees within 90 days of receiving the report form the Navy.
This comes after the bill already provides $625 million in extra funds for ship depot maintenance for the long-delayed Los Angeles-class attach submarines USS Boise (SSN-764), USS Hartford (SSN-768) and USS Columbus (SSN-771). In all, $405 million covers Boise and $110 million each for Hartford and Columbus.
Boise was first scheduled to start maintenance work at the Norfolk Naval Shipyard in 2013 but was delayed several times. A year ago, it was scheduled to start the work four years late at Huntington Ingalls Industries' [HII] Newport News shipyard but was then delayed further into FY 2020 due to lack of funds and the USS Helena's (SSN-725) maintenance availability going longer than planned. Schedule delays for maintenance of the USS Montpelier (SSN-765) also delayed the Columbus' maintenance work.
In May, the House Appropriations Committee's draft funding bill noted Boise has been delayed so long it lost its dive certification in 2017 and deserves more attention over procuring a third Virginia-class attack submarine (Defense Daily, May 22).
Earlier this month, Commander of Naval Sea Systems Command Vice Adm. Thomas Moore told reporters that the service expects Helena to be delivered back to the fleet in February and Columbus in late spring to early summer 2020. Then, Boise will go into the drydock Columbus is currently in around April (Defense Daily, Dec. 4).
Last December, a GAO report on Navy readiness and maintenance found despite efforts to decrease the backlog it grew in 2018. Overall, since 2012, 30 percent of Navy maintenance was completed on time, resulting in the bill report's 27,000 days of ships delayed and unavailable for training or operations (Defense Daily, Dec. 13, 2018).
The GAO calculated FY 2018 has more delayed maintenance days than 2017 for surface ships and attack submarines.
However, after this month's Senate hearing, Navy acquisition chief James Geurts told reporters the service and GAO use different ways of calculating delay dates, making it appear efforts to fix delays are not having much of an impact yet.
Moore and Geurts said GAO counts delays for each of the years a ship's maintenance is delayed while the Navy attributes delays to the first year the maintenance was due to be finished and when delays began. Therefore, a ship maintenance period due to end in mid-2017 pushed to early 2019 accrues delay days for each of the three years while the Navy would accrue those days only to 2017. Then, if fewer maintenance periods are delayed in following years due to reform efforts, 2019 numbers look better by the Navy counting scheme compared to GAO's calculations.
At the hearing, the officials argued the Navy has implemented several initiatives to improve ship maintenance contract execution.
This includes pre-priced changes to remove previously-required approvals for small dollar changes that account for 70 percent of growth work schedule delays, right-sizing quality assurance checkpoints to eliminate 50 percent of overlapping or redundant requirements, and improving the forecasting model for ship availability durations and port capacity.