Two Navy officials on Wednesday told Congress the second continuing resolution (CR) may impacted five more ship maintenance contracts while noting the long-delayed USS Boise (SSN-764) maintenance will start when it enters drydock in the spring.
In written testimony before the Senate Armed Services Seapower and Readiness and Management Support Subcommittees, Assistant Secretary Of the Navy for Research, Development, And Acquisition James Geurts and Commander of Naval Sea Systems Command Vice Adm. Thomas Moore said the Navy "also has plans to award five additional ship maintenance contracts before December 20, 2019, which may be adversely impacted by the second CR."
"This uncertainty significantly undermines our efforts to provide greater stability and predictability to industry, and limits industry's ability to plan for future work by hiring workers, ordering materials, and investing in maintenance and infrastructure upgrades," they added.
Geurts told reporters last month the first CR, which lasted through Nov. 21, forced the Navy to delay two planned awards for maintenance on the USS Bainbridge (DDG-96) and USS Gonzalez (DDG-66) (Defense Daily, Nov. 15).
Now the second CR may delay five more vessels on top of the two destroyers.
When asked about further impacts of CRs, Moore said while public shipyard work is essentially paid unfront and the budget does not directly affect the workforce too much, "the bad news is the brunt of the impact to the people is going to be on the private sector surface ship repair. And this has really been our big challenge, frankly, over the last 2 years I think we've kind of turned the corner on the public yards but the private sector is looking for that long term security."
Any private sector company executive will say "if they don't know that they've got a stable plan and guaranteed work they're not going to hire and that lagging in the hiring is going to then have a deleterious impact on our ability to reach those availabilities on time," Moore continued.
Aside from the CR issues, the officials said in their statement the Navy has implemented several initiatives to generally improve performance in contract execution for ship maintenance work. This includes initiatives like utilizing pre-priced changes to remove previously-required approvals for small dollar changes that generally account for 70 percent of growth work schedule delays, minimizing the approval cycle time from an average of 31 days to two days.
The service is also working with industry to implement "an initiative to right-size quality assurance checkpoints," which have eliminated 50 percent of them by ending overlapping or duplicative requirements.
Thanks to these measures and increasing directive maintenance strategies to improve the forecasting model for ship availability durations and port capacity, "all five of the FY 2019 maintenance availabilities that incorporated this model have delivered on time," Geurts and Moore said.
This pushes the Navy to a more balanced schedule for the industrial base and a net result of 21 percent improvement in the number of on-time deliveries finished in FY 2019 compared to FY 2018.
However, earlier cost overruns and delays to the schedules of maintenance work on the Virginia-class attack submarines USS Helena (SSN-725) at Huntington Ingalls Industries' Newport News Shipbuilding [HII] and USS Montpelier (SSN-765) at General Dynamics Electric Boat [GD] in FY 2019 caused deferred maintenance for the long-delayed USS Boise and USS Columbus (SNN-762).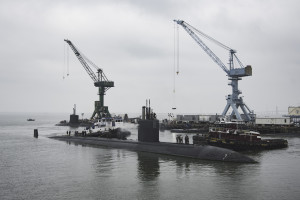 "The Navy will need to balance the workload across the public and private sectors to support future maintenance and modernization as well as ensuring new ship construction efforts are adequately supported," they said.
Speaking to reporters following the hearing, Moore explained currently Montpelier's work has been finished at GD so now Helena and Columbus are at Newport News "and that impacts Boise. I think what we're trying to do at Newport News is to help them the same way that we have problems, which is help them establish a workforce to regain some proficiency, get better at the planning."
Moore said the Navy has offered the companies resources from the public shipyards to help them from the delayed maintenance activity and project management perspectives as they reached out for help.
"There is some basic fundamental blocking and tackling they've got to get better, I think they recognize that. And we would like to keep them in the submarine maintenance business for the long haul, for a number of reasons: it's a surge volume for the public shipyards and it's also if we go to war we'd like to have that capacity."
Moore noted HII and GD are getting better and making improvements, although the Navy wants to see the pace increase. He said the Navy expects Helena to be delivered about February 2020 and Columbus sometime in the late spring to early summer 2020.
Boise is slated to go into the drydock that Columbus is currently in at HII Newport News Shipbuilding "so Boise will go into the yard looking at the April timeframe when Columbus comes out of dock," Moore added.
Boise has been a poster child for submarine maintenance delays. SSN-764 was first scheduled to enter the public Norfolk Naval Shipyard for extended maintenance work in 2013, but after many delays the work was given to Huntington Ingalls Industries Newport News shipyard. However, it was then deferred even longer due to the Helena's maintenance availability lasting longer than needed.