A new Government Accountability Office (GAO) report found that since FY 2008 the Navy has spent over $1.5 billion on 14 attack submarines sitting idle waiting to enter a shipyard for maintenance and those delayed n finishing maintenance. At the same time, those submarines also spent a total combined 61 months sitting idle waiting to even enter the shipyards for maintenance.
The GAO report, released Monday, resulted from a congressional direction to review the readiness of the Navy's attack submarine fleet. A classified version of the report was issued Oct. 31.
GAO noted that from FY 2008- 2018 attack submarines have experienced 10,363 days of idle time and maintenance delays resulting from delays getting in and out of the shipyards.
The Navy has four public shipyards: Portsmouth Naval Shipyard, Norfolk Naval Shipyard, Puget Sound Naval Shipyard and Intermediate Maintenance Facility, and Pearl Harbor Naval Shipyard and Intermediate Maintenance Facility. They all provide depot-level maintenance, which the Navy calls the most involved and time-consuming maintenance work.
General Dynamics Electric Boat [GD] and Huntington Ingalls Industries Newport News Shipbuilding [HII] (HII-NNS), which build nuclear-powered ships including the attack submarines, also provide depot-level maintenance in some cases.
"Idle time incurred while waiting to begin a maintenance period is often coupled with maintenance delays while at the shipyards, thus compounding total delays," the report said.
The report found the Navy incurs "significant costs" in supporting and operating submarines dealing with idle time and maintenance delays. The $1.5 billion figure was derived from crewing, maintaining, and supporting attack submarines that were delayed getting in and out of the yards using historical daily cost data the Navy adjusted for inflation.
The GAO explained while the Navy would have incurred these costs even if the vessels were deployed, it incurred the $1.5 billion "for attack submarines without receiving any operational capability in return."
Although the Navy argued it could still get some benefits from the operating and support costs since the crews could still conduct some limited training, GAO said costs like crew salaries, buying spare parts, and conducting maintenance "do not represent the full operational impact incurred by the Navy from the idle time and maintenance delays."
The report noted the Los Angeles-class USS Boise (SSN-764) is the poster child of submarine delays. Although the Navy originally scheduled the Boise to enter the Norfolk Naval Shipyard for extended maintenance in 2013, due to a heavy workload repairs has been delayed through today. In June 2016 the submarine's certification for normal operations expired, pulling it out of service. It has remained idle and pier-side at Nofolk Naval Station for over two years while waiting to enter a shipyard.
After Congress called for action on the Boise in 2017, the Navy awarded a contract to HII-NSS for SSN-764 depot maintenance in FY 2018 (Defense Daily, Oct. 20, 2017).
The GAO said by Oct. 1, the first day work could have started, the submarine will have been idling for 852 days since 2016. However, due to the time needed to prepare for a major maintenance period, the work is not expected to start until January 2019, leading to 960 days total of idle time.
SSN-764 arrived at HII-NNS in June and the total work is expected to take 25 months, until 2021 (Defense Daily, June 22).
GAO noted the Navy has started to address the public shipyard workforce and facilities needs and challenges, but "it has not effectively allocated maintenance periods among public shipyards and private shipyards that may also be available to help minimize attack submarine idle time."
The office said its analysis found even while public shipyards have been operating above capacity for several years submarine maintenance delays are still getting longer and idle time is increasing. Moreover, it said the Navy expects backlogs to continue.
GAO estimated that the Navy will incur a further $266 million in operation and supporting costs in FY 2018 dollars for idle submarines in FY 2018 – 2023.
The public shipyards have increased full-time civilian employees from 25,000 in 2007 to over 34,000 in 2017 and aims for 36,100 by 2020. However, Navy officials noted the new workers are mostly inexperienced and will take time for full proficiency.
In February the Navy released its shipyard optimization plan, outlining $21 billion in needed investment to address shipyard facility and equipment needs over 20 years to meet operational needs of the current fleet. However, the GAO pointed out this plan does not cover the needs of the planned larger fleet heading to a goal of 355 ships.
The report argued the Navy may be able to mitigate this by using private shipyard capacity for the repaid work, but the Navy has not completed a comprehensive business case analysis to inform maintenance workload allocations across public and private yards, as recommended by DoD guidelines. GAO said officials from GD and HII-NNS told the office they each have available capacity for repair work for at least the next five years.
While the Navy has shifted eight million man-hours of attack submarine maintenance to the private yards in the past five years, this was done sporadically and sometimes after lengthy idle times. The private shipyard officials told GAO the sporadic shifts in the workload "have resulted in repair workload gaps that have disrupted private shipyard workforce, performance, and capital investment—creating costs that are ultimately borne in part by the Navy.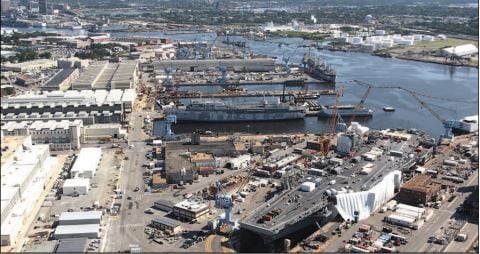 In early 2017 a Navy official said the service planned to continue relying on private shipyards for scheduled submarine maintenance periods. By that time the Navy had conducted six maintenance availabilities since 2012 at the two private yards.
Vice Adm. Joseph Mulloy, then-deputy chief of naval operations for integration of capabilities and resources, said at the time it often takes public shipyards too long to finish the attack submarine work because ballistic missile submarines and aircraft carriers are considered higher priorities (Defense Daily, March 16, 2017).
The report's main recommendations is the Secretary of the Navy should ensure the Chief of Naval Operations conducts a business case analysis to inform this maintenance workload allocation.
It said the analysis should cover an assessment of private shipyard capacity to perform attack submarine maintenance, incorporate an accounting of the costs and risk associated with the submarines sitting idle, and account for qualitative benefits related to both mitigating risk in new submarine construction and providing additional availability to combatant commanders.