The program executive official for submarines on Nov. 18 said the service is confident it can ramp up to building three Virginia-class attack submarines (SSNs) per year if a plan to do so were enacted, but it requires more studies to balance production and maintain them properly.
Last month, former Secretary of Defense Mark Esper laid out the main points of his new Navy future fleet plan, Battle Force 2045. Among other changes to increase the force to 355 ships by 2035 and 500 including unmanned vessels by 2045, Esper underscored the importance of reaching 70 to 80 attack submarines (Defense Daily, Oct. 6).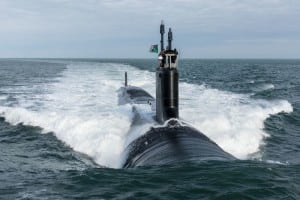 "If we do nothing else, the Navy must begin building 3 Virginia-class submarines a year as soon as possible," he said.
The Navy currently has 50 attack submarines but at the previous pace of building new vessels and retiring old ones it is expected to drop down to 42 submarines later in the 2020s. Under pre- Battle Force 2045 plans, the Navy would not reach over 60 attack submarines until 2042, whereas a minimum of three per year is needed to increase the vessel count to over 70.
"We are in the initial studies of doing that analysis and how you go ramp up for three per year," Rear Adm. David Goggins said at this year's virtual Naval Submarine League symposium.
However, Goggins underscored the Navy's focus on the new Columbia-class nuclear-armed ballistic missile submarines (SSBNs) when factoring in how to get to three SSNs per year.
"But first of all, the priority is Columbia, so we've got to make sure, as we ramp up for three per year, that that program delivers on time," he said.
"So how are we doing this? The good news is with the work we've done with our government-industry team on the vendor base, we have a very good understanding of our vendor base today at the two Virginias-per year. We know where the constraints are, we know where we need more machines, more buildings – so we have a good understanding of what it'll take to go ramp up our vendor base going from two to three Virginias per year," Goggins continued.
He said the Navy needs to do work at shipbuilders General Dynamics Electric Boat (EB) [GD] and Huntington Ingalls Industries' Newport News Shipbuilding [HII]. GD acts as the prime for the contract but both companies build parts for each vessel.
"Ramp them up for three per year – what facilities they need, what machines they need, and the manning ramp up they have to go do for three per year."
Goggins said they are looking at expansion options, which will require investment at Electric Boat, Newport News Shipbuilding and the overall vendor base.
"But we're not going to do that at the expense of the Columbia program. The Columbia is the priority. The second priority is to execute the schedule for Block IV and Block V [Virginia-class attack submarines]. And when we have full confidence, we can ramp up to three per year if the Navy's called to go do that."
Last month, Virginia-class prime contractor GD said while they have no current plans to increase the SSN production rate they could accommodate it (Defense Daily, Oct. 28).
"At the moment we're not planning for that increase. But if the nation needs it, we'll accommodate it," Phebe Novakovic, chairman and CEO of General Dynamics, said during a quarterly earnings call.
Likewise, during HII's earnings call, the company's President and CEO Mike Petters said industry could support a three submarine per year build plan, but only with a consistent government commitment (Defense Daily, Nov. 5).
Petters said HII and GD had been working on the issue together "and we're all working it with the Navy and so I think there is the capacity to go do that but it ain't a light switch and you don't turn it on overnight."
"My rule of thumb though is if you're persistent on these signals from the government, the capacity in the industry can be built faster than the government can appropriate the funding to go do it," he continued.
Goggins acknowledged the Navy is also looking at the maintenance capacity at both the public and private shipyards in its analysis for three SSNs per year.
"If we go down and execute the three per year, the big part of that too then is really doing the assessment of what that does for the maintenance risk perspective."
He said the Navy would not build more submarines annually if they could not plan to adequately maintain them, including accounting for the proper drydock capacity.
Therefore, the analysis will stack together all of the maintenance availabilities the vessels are expected to undergo through their service lives and assess the workload, capacity, shipyard capacity, and drydock capacity.
"And that work will need to be done as part of the three per year studies we're doing," Goggins said.