The future Freedom-variant Littoral Combat Ship USS St. Louis (LCS-19) finished acceptance trials in Lake Michigan on Dec. 13, the Navy and prime contractor Lockheed Martin [LMT] said Dec. 18.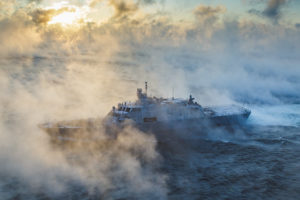 These trials are the last major milestone before a ship is delivered to the Navy and involves completing a series of graded in-port and underway demonstrations for the Navy's Board of Inspection and Survey. This covered demonstrating performance of the propulsion plant, ship handling, and auxiliary systems.
The ship will now undergo final outfitting and fine tuning before delivery, planned for spring 2020.
"The strong performance during this Acceptance Trials is an important milestone in the life of the future USS St. Louis. St. Louis will be an exceptional addition to the LCS fleet," LCS Program Manager Capt. Mike Taylor said in a statement.
The Freedom-variant ships are built by Fincantieri Marinette Marine in Marinette, Wis., under Lockheed Martin.
After LCS-19 is delivered and commissioned, it will sail to Mayport, Fla., to be homeported with fellow Freedom-class ships USS Milwaukee (LCS-5), USS Detroit (LCS-7), USS Little Rock (LCS-9), USS Sioux City (LCS-11), USS Wichita (LCS-13), USS Billings (LCS-15) and USS Indianapolis (LCS-17). The St. Louis is the 10th Freedom-variant built by the Lockheed Martin-led team.
"As each Freedom-variant hull deploys, we seek out and incorporate fleet feedback and lessons learned to roll in capabilities for new hulls. As a result, LCS-19 includes a solid-state radar, upgraded communications suite, increased self-defense capabilities and topside optimization, among other updates," Joe DePietro, Lockheed Martin vice president and general manager for Small Combatants and Ship Systems, said in a statement.
Other Freedom-variant ships under construction in Marinette include the future USS Minneapolis-Saint Paul (LCS-21), which was christened in June, and the future Cooperstown (LCS-23), which will be christened in 2020. Other ships in the production phase at the shipyard include the future USS Marinette (LCS-25), Nantucket (LCS-27) and Beloit (LCS-29), while the Cleveland (LCS-31) is in the pre-production phase.
Three LCSs were delivered to the fleet in 2019 and three more are planned for 2020.