BAE Systems has received a $249 million order from the Army for M109A7 Self-Propelled Howitzers and accompanying tracked vehicles, with the company preparing for an imminent full-rate production decision. 
Under the latest low-rate production order, BAE Systems will deliver 60 M109A7 howitzer systems as well as 60 M992A3 Carrier, Ammunition, Tracked (CAT) vehicles.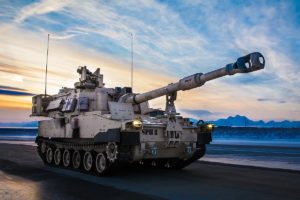 "We have improved our processes to ensure our manufacturing quality and completed the expansion of our facility in Elgin, Oklahoma. We are now consistently delivering against the agreed upon schedule for the M109A7 and accompanying ammunition carrier," Alicia Gray, a BAE Systems spokeswoman, told Defense Daily. "This platform brings tremendous capability to the battlefield and goes a long way toward addressing the Army's artillery modernization priority. We stand ready for the Army's green light on full-rate production."
BAE Systems was awarded the initial contract for the M109A7, the latest version of its self-propelled howitzer, in 2017 and the latest one raises the LRIP program total to $1.2 billion and 156 vehicles.
Deliveries under the new deal are expected to be completed by January 2023.
The M109A7 features a new vehicle design with a "digital backbone" that is intended to reduce space, weight and power considerations while increasing the system's overall mobility and survivability.
The upgraded howitzer specifically includes a new chassis, engine, transmission, suspension, steering system and a new high voltage architecture, according to BAE Systems. 
"We are excited about the opportunity to continue bringing new howitzers and increased survivability to our soldiers," Jeremy Tondreault, BAE Systems' vice president and general manager of combat vehicles, said in a statement. "The M109A7 positions the Army to execute its current mission with confidence and support its future needs and requirements as long range precision fires evolve."