The Army said Friday it has awarded Vortex Optics a 10-year deal worth up to $2.7 billion to deliver the fire control system for the service's Next-Generation Squad Weapons (NGSW).
Vortex Optics beat out L3Harris Technologies [LHX] for the production contract and is set to deliver up to 250,000 NGSW-Fire Control systems as the Army fields the new guns that will begin replacing its M4 rifles and M249 Squad Automatic Weapons.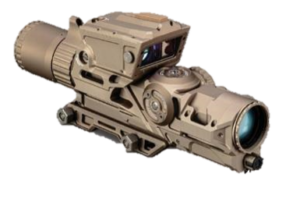 "The NGSW-FC system is a ruggedized fire control that increases accuracy and lethality for the Close Combat Force. It integrates a number of advanced technologies, including a variable magnification optic, backup etched reticle, laser rangefinder, ballistic calculator, atmospheric sensor suite, compass, Intra-Soldier Wireless, visible and infrared aiming lasers, and a digital display overlay," the Army wrote in a statement.
In April 2020, the selected Vortex Optics and L3Harris for NGSW-FC prototype program, as it looked to find a replacement for its current Close Combat Optic, Rifle Combat Optic, and Machine Gun Optic.
The Army has previously said the NGSW-FC must be able to "rapidly engage man-sized targets out to 600 meters or greater while maintaining the ability to conduct close quarters battle" (Defense Daily, May 30 2019).
The Production-Other Transaction Agreement awarded to Vortex Optics for NGSW-Fire Control has a minimum value of $20 million, according to the Army.
The NGSW program includes the NGSW-Rifle and NGSW-Automatic Rifle that will use new 6.8mm bullets, with the Army selecting Textron Systems [TXT], General Dynamics [GD] and SIG Sauer to compete for a production contract set to be awarded this year.