The U.S. and Japan are working on signing a new five-year deal to continue sharing the cost for the American military presence in Japan as well as a new research and development agreement to collaborate on emerging technologies, U.S. Secretary of State Antony Blinken said Thursday.
Blinken delivered the announcement during a virtual meeting with Defense Secretary Lloyd Austin and Japanese Foreign Minister Hayashi Yoshimasa and Defense Minister Kishi Nobuo, where the leaders cited their concerns with growing challenges from China and Russia.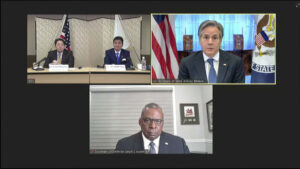 On the new five-year Host Nation Support framework with Japan, Blinken said the agreement "will invest greater resources to deepen our military readiness and interoperability."
"Our militaries are training and deploying more together. As we do, our forces are improving their capacity to conduct complex, joint operations. This was evident in the multi-carrier operation that our militaries conducted near Okinawa in October, together with the United Kingdom, with New Zealand, the Netherlands, Canada," Blinken said.
Blinken said the research and development agreement in the works will "make it easier for our scientists, for our engineers, and program managers to collaborate on emerging defense-related issues," specifically citing opportunities to work with Japan on counter-hypersonic weapon technology and advanced space-based capabilities.
"When Japanese and American researchers bring their complementary strengths to bear, we can outcompete and out-innovate anyone," Blinken said.
During his remarks, Blinken cited the consensus view with his Japanese counterparts around China and Russia "[continuing] to violate international norms – on land, at sea, in space, in cyberspace," to include Beijing's "provocative actions" in the Taiwan Strait and East and South China Seas and Moscow's military buildup along its border with Ukraine.
"These aggressive actions threaten the rules-based international order that both of us have invested a lot in, and it's provided the foundation for peace, for security, for prosperity for people in both of our countries and around the world," Blinken said. "So to address these evolving threats, our alliance must not only strengthen the tools we have, but also develop new ones. And I think that's really the focus of the discussions that we're about to have."
Austin noted the U.S. and Japan conducted Exercise Yama Sakura 81 in December that he said "was the largest bilateral and joint command post drill in 40 years of this exercise," and which was followed by the large-scale Exercise Resolute Dragon demonstration with U.S. and Japan Self-Defense Forces.
"We're meeting against a backdrop of increased tensions and challenges to the free and stable and secure Indo-Pacific region that we both seek – challenges posed by North Korea's nuclear ambitions and by the coercive and aggressive behavior of the People's Republic of China. So together we're taking bold steps to improve our alliance, bolster our readiness, and strengthen what I call integrated deterrence," Austin said.