The Army's interim cruise missile defense system, the Israeli Iron Dome capability, is currently unable to integrate with its future missile defense command platform, the service's top missile defense official said during a Thursday hearing. 
Lt. Gen. Daniel Karbler, head of Army Space and Missile Defense Command, told reporters following his testimony at a House Strategic Forces Subcommittee hearing that the ability to integrate with the Integrated Air and Missile Defense (IAMD) Battle Command System (IBCS) will be a requirement for participants in next spring's "shoot-off" to find its long-term Indirect Fire Protection Capability (IFPC).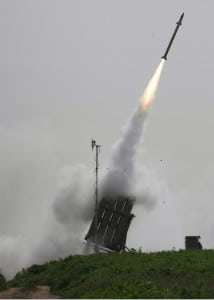 "As part of the shoot-off that we'll do next spring, one of the requirements will be for the components of Iron Dome or any of the other systems that will participate in shoot-off to be able to integrate into IBCS," Karbler told reporters. 
The Army previously purchased two batteries of Iron Dome, produced by a team of Israel's Rafael and Raytheon [RTN], following a directive in the fiscal year 2019 defense authorization bill to acquire the system. 
Lawmakers pressed Karbler on the Army's intentions for Iron Dome, after he noted the service is planning to only field the system at the end of this year before evaluating its operational potential. 
"I hear what you're saying, but I don't want to see perfect be the enemy of good. I don't want to see a perfect, hoped for and expected capability deter us from using something that is available and usable right now and will save lives," said Rep. Doug Lamborn (R-Colo.).
Rep. John Garamendi (D-Calif.) referenced the recent rocket attack in Iraq that killed two service members and asked Karbler if the Iron Dome could have been helpful in such a situation.
"The Iron Dome is specifically designed for that [Katyusha] missile, and it doesn't have to be integrated into your grand plan if it's within 300 miles from that site where those two men died. The Iron Dome is deployed, could have been available, but you have some grand plan of some integration system," Garamendi said. 
Karbler said that Iron Dome is not currently certified as a feasible option for the field, and added that as a standalone system it "does not fit in well with our future plans."
"In the near term I would say no, not feasible yet. We'll have to do the assessment after we train up the soldiers on the Iron Dome systems when we get them," Karbler said. "I agree, it's a combat-proven system. The Israelis have shown it is a very capable system. So, again, we have to look at how deployable it is and how well can we get it into theater and then operate with the soldiers given that it might not be as maneuverable as we want it to be."
For IBCS, the future missile defense command platform being developed by Northrop Grumman [NOC], Karbler added that Iron Dome's individual components don't currently fit within the capability's "any sensor, any shooter" approach.
"I can't take a separate component out of Iron Dome, like the missile or the radar, to be able to integrate into our broader integrated air and missile defense network," Karbler said. 
Karbler said last week the Army is planning a limited user test for IBCS this spring, as the program moves toward fielding an initial capability in 2022 (Defense Daily, March 9).