The Pentagon is working with the services and combatant commands to find interim cloud solutions for near-term programs while work on its Joint Enterprise Defense Infrastructure tactical cloud remains paused due to legal delays.
Dana Deasy, the department's chief information officer, told reporters on Wednesday that although the Pentagon reaffirmed Microsoft [MSFT] as the winner of JEDI over
Amazon Web Services [AMZN] earlier this month he does not have a definite date for when a court-ordered stay on the program will be lifted.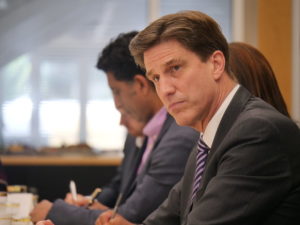 "The court process is one we don't control, so I'm not going to tell you right now when I think that's going to come to an end. Do I think we've done all the right things now, have we submitted all the right documentation back that would allow us to move this on? Yes, but I won't speculate beyond that," Deasy said.
Deasy said the Pentagon is finalizing prerequisites, to include in-house work on new tools and procedures that will allow for rapid transition from interim cloud solutions to JEDI once Microsoft can begin work on the program.
"We're going to continue to work on what I call the prerequisites to using the cloud for what it was really about. I know that everybody continues to be fixated on this contract and getting the cloud provider under a contract. For me, I've stated this and I'm seeing more and more evidence the cloud is nothing more than a facilitated environment that allows us to do what really matters and that's going to be DevOps, agile development," Deasy said.
Last December, Deasy said the Pentagon had 14 early adopters lined up for JEDI along with "60 to 70 services" deemed essential for initial cloud migration, before work was placed on hold following AWS' legal challenge (Defense Daily, Dec. 12 2019).
"We are telling people right now, if you have an urgent warfighting need that needs to be met in the short term, we continue to find homes in other platforms for them to work," Deasy said on Wednesday. "That is obviously okay in the short term, but over time that starts to become problematic because now you're starting to set up a lot of different solutions in different environments where you're going to have to go back and sort out in an enterprise way."
Microsoft originally beat out AWS for the potential $10 billion JEDI cloud contract last October, following a series of program delays, allegations of conflict of interest, pre-award protests and congressional and industry pushback over the Pentagon's decision to go with a single-award approach.
AWS said it plans to continue its protest of JEDI after DoD reaffirmed Microsoft as the winner following a court-ordered review period, stating it believes the Pentagon did not address "numerous material evaluation errors" in its review and that its latest bid offered a lower cost "by several tens of millions of dollars" (Defense Daily, Sept. 4).