The Pentagon's chief information officer on Thursday said the department will stand up the unclassified environment for the new Joint Enterprise Defense Infrastructure (JEDI) cloud by mid-February, while also detailing several new artificial intelligence initiatives for 2020 including the first lethality-focused project.
DoD CIO Dana Deasy provided the JEDI cloud update to attendees at an AFCEA event a day after the department formally kicked off its work with Microsoft [MSFT] on the potential $10 billion project.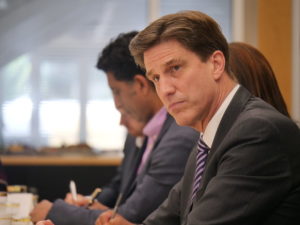 "Just yesterday was our JEDI kickoff, which was a significant milestone. It was the official start of now actually building out our cloud environments," Deasy said. "Between now and approximately mid-February is a set of heavy lifting work to get the unclassified environment built out. And then, six months approximately after that we hope to stand up the secret environment. Them sometime thereafter, we will stand up the top secret environment."
The Pentagon's series of meetings this week with Microsoft in D.C. to begin preparing for JEDI cloud migration arrives as Amazon [AMZN], which lost out on the contract, has officially filed a lawsuit protesting the award and alleging outside political influence in the contract decision (Defense Daily, Dec. 10). 
The department has 14 early adopters lined up for JEDI-related projects, including the Navy, TRANSCOM, SOCOM and JSOC, according to Deasy.
The Pentagon will continue meeting with Microsoft every two weeks to ensure that "60 to 70 services" deemed essential for JEDI cloud migration are ready for the mid-February timeline. 
Deasy said JEDI will also allow JAIC to more rapidly deploy new AI tools, with the new office set to begin working expanding several projects in 2020.
Initial work on the first lethality-focused "Joint Warfighting" AI tools will begin next year, including a pilot program for "Joint All Domain C2," development of autonomous ground reconnaissance and surveillance and fire support coordination tools.
"Next year we will start in JAIC our first 'Joint Warfighting' effort, our first step into the lethality side of artificial intelligence," Deasy said. "We're just now in the throes of working with the joint staff on what are the exact scoping for that program."
A predictive maintenance tools for Black Hawk helicopters, which has already been rolled out to SOCOM, will be deployed across the services in 2020, according to Deasy. 
Deasy noted that a primary focus for JAIC in the first quarter of next year will be working on data management standards so new AI algorithms can be more easily distributed across the services.
"To that end, there is some work we're doing right now to define the role of the chief data officer inside the DoD. Most of the services have stood up a CDO capability. Now the question becomes how do we integrate that across the Department of Defense," Deasy said.