General Dynamics' [GD] new $1.2 billion deal from the Army for the Interim Maneuver Short-Range Air Defense (IM-SHORAD) program will begin with a $230 million order covering integration of the system on 28 Stryker vehicles, the company told Defense Daily
.
The IM-SHORAD production contract, awarded on Wednesday, is also expected to cover the Army's previously stated requirement for 144 systems.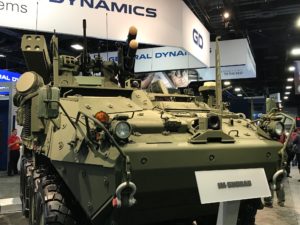 "As a subset of that contract, 28 vehicles were called up in the first delivery order. We'll start ordering material and begin production for those vehicles today as we go forward," the company said.
IM-SHORAD is the Army's program to field a new mobile platform on its Stryker vehicles capable of taking down unmanned aircraft systems, rotary-wing and fixed-wing threats, as well as cruise missiles.
GD was selected as the platform integrator for IM-SHORAD with a prototype deal in 2018, while Leonardo DRS is supplying the mission equipment package.
Work on the $1.2 billion contract is expected to be completed by Sept. 30, 2025 (Defense Daily, Sept. 30).