This week the Program Executive Officer (PEO) for unmanned and small combatants (USC) laid out its fiscal year 2021 priorities and plans as the fiscal year changeover began.
Rear Adm. Casry Moton is personally focused and prioritizing six issues over the next fiscal year, he said during a Navy league virtual special topics breakfast webinar Sept. 30.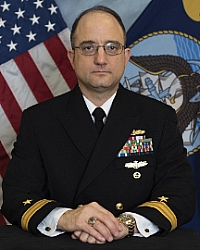 They are divided into execution of Littoral Combat Ship (LCS) shipbuilding, field the LCS antisubmarine (ASW) mission package, complete operational testing of Mine Countermeasures (MCM) systems and demonstrate them on the LCS, improve reliability and maintainability, complete the new frigate (FFG(X)) detail design and prepare for production, and execute unmanned systems prototyping and acquisition plans.
He said PEO USC will "continue steady execution" of LCS shipbuilding.
"In FY '21 we will start construction on the last two LCSs and lay keels for three ships. We will launch and christen three ships & commission four ships. An additional five ships will transition from our post-delivery stage into sustainment," he added.
Next, Moton said his PEO will field the LCS ASW mission package. The office deployed the variable-depth sonar (VDS) on an LCS in 2020 and they are now in tests. In FY '21 the Navy will finish VDS testing on the Freedom-variant LCS and expects to reach initial operational capability as well as start integration tests on the Independence-variant LCS.
"The system is detecting and tracking submarines now and this critical offensive ASW capability will be ready to field on LCS." Moton added that this ASW work is critical because "FFG(X) will operate this same VDS as part of its multi-mission capability."
In FY '21, the office plans to also complete operational testing on the MCM systems and demonstrate together on the LCS.
He noted the service is testing the individual systems that make up the MCM mission package before putting them together on a vessel. The Airborne Mine Neutralization System (AMNS) and Airborne Laser Mine-Detection System (ALMDS) are fielded with the fleet now and can operate off the LCS, other platforms, or ashore.
This coming year the Navy will test the Knifefish Unmanned Undersea Vehicle (UUV) Block 1, Unmanned influence Sweep System (UISS), and Minehunting Unmanned Surface Vehicle (USV).
Moton underscored that while the full package-level testing will ring out all the systems at once, that will only happen after they are tested individually "and after their performance characteristics have been evaluated in operational tests. The package-level test is important as a demo, but the system-level tests that we're doing now, on and off LCS, are where we show that we can find and kill mines reliably with these systems."
PEO USC is separately working to improve overall LCS reliability and maintainability in FY '21. Moton noted the four production LCSs that deployed to 7th and 4th Fleets "have been successful in accomplishing their missions in support of our fleets and combatant commands – but the reliability must improve."
He said the Navy is gathering lessons learned in material issues and maintenance and support methods.
"Our focus on reliability is in key ship systems such as propulsion and controls, deck and handling systems, and radars."
Moton revealed they stood up a cross-functional LCS "Strike Team" made of LCS shipbuilders, sustainers, engineers, and logisticians working with the fleet in a "metrics-based approach focused on availability drivers to generate and execute action plans."
Action plans include material fixes to be installed on in-service ships, while the team will also focus on maintainability.
"We want to ensure the Navy has ability to better organically support ships, including improvements in Navy ability to troubleshoot, source spare parts, and perform appropriate levels of maintenance ourselves."
PEO USC will also focus on completing the new frigate detail design and prepare for production.
Contract winner "Fincantieri Marinette Marine and their design partner Gibbs & Cox are already off and running on detail design, working closely with our Navy team at PMS 515 and the NAVSEA engineering office, NAVSEA 05."
Moton said Fincantieri is "well in progress on material procurement, they are executing their staffing and CapEx plans. The government team too is busy – including combat system and C4I integration and our team is also preparing to conduct a thorough integrated baseline review with the prime contractor to ensure we have a good baseline to track cost and schedule."
"The success of the frigate program is essential and we are executing the right plan to be ready for production," he added.
The last focus area is executing the unmanned system prototyping and acquisition plans. In particular, by the end of FY '21, PEO USC expects to have four USV prototypes on the West Coast operating under Surface Development Squadron One: two Sea Hunters and two Overlord-type USVs.