The Program Executive Officer (PEO) for unmanned and small combatants (USC) said the service is pushing toward 30-day unmanned surface vehicle (USV) transits while laying out his fiscal year 2021 focus areas.
Rear Adm. Casey Moton is personally focused and prioritizing unmanned system prototyping and acquisition plans as one of six resolution areas in FY '21, he said during a Navy league virtual special topics breakfast webinar Sept. 30.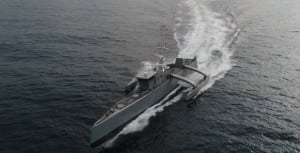 Moton underscored this year the Overlord vessels will transit to the West Coast and "execute a busy year of testing, which includes autonomous transits and development vignettes."
While the Navy is currently in possession of one Sea Hunter vessel, over the next year it will gain a second Sea Hunter as well as two Strategic Capabilities Office-originating Overlord USVs as it works on prototyping USV operations and systems.
Testing will cover integration of autonomy software and automation systems, perception systems, and demonstrating the ability to perform safe autonomous navigation in accordance with the International Regulations for Preventing Collisions at Sea 1972 (COLREGs) navigation rules, known as the maritime rules of the road.
Notably, Moton said that "in FY '21 we are pushing the duration of transits increasingly longer and we will soon be working up to a 30-day transit."
The USVs will also undergo testing and experimentation using government furnished C4I payloads; combat system payloads; hull, mechanical and electrical upgrades; and with more complex autonomous behaviors.
In FY '21 the Navy plans to use the Sea Hunter in multiple fleet exercises and tactical training events, execute manned ship control of multiple Sea Hunter and Overlord USCs in the same exercise, test command and control, have the USVs perform as part of surface action groups, and train sailors on the platforms.
Moton said integration of autonomous capability is being performed on the program of record C4I system and the Aegis Combat System is being adapted to make Large USVs (LUSVs) and Medium USVs (MUSVs) "part of our netted fleet."
He explained while firing decisions based on LUSVs will remain "with the human in or on the loop" he said the process is similar to launch on remote capability, which occurs today.
In FY '21 the PEO USC team will execute the recent LUSV studies contracts "and continue our foundational government efforts such as the unmanned maritime autonomy architecture and the RAIL [Rapid Autonomy Integration Lab]."
The RAIL was unveiled last month as an effort led by Capt. Pete Small, program manager of the unmanned maritime systems office. It seeks to integrate new and updated autonomy capabilities for use in various USVs and UUVs (Defense Daily, Sept. 8).
Moton said this experimentation and development work are key components of and integrated with the Chief of Naval Operations' unmanned campaign plan.
The campaign plan seeks to bring together all Navy unmanned programs under a centralized management and leadership for the enabling technologies (Defense Daily, Sept. 9).
Congress has been very concerned the timeline of developing armed USVs with the FY '21 defense authorization bills would force the Navy to certify key technologies and systems independently before production can move forward (Defense Daily, June 23).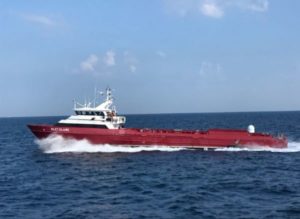 Moton said that the Navy is "having continuous robust two-way discussion with Congress on the best way to conduct a rigorous prototyping plan to mature the technologies and all other aspects. I've been very grateful to the defense committees for the willingness to have those discussions and I'm confident that we're going to come to a plan that all of us agree will have us ready to go to program of record when the time is ready."
He said the program office is also busy on unmanned undersea vehicles (UUVs)UUVs as they continue production of the five prototype Extra Large UUVs (XLUUVs), awarding a contract for medium UUVs (MUUV) in FY '20-21, and award the contract for the Snakehead Large Diameter UUV  Phase 2 industry prototype.
Boeing [BA] is under contract to build five 54-inch in diameter Orca XLUUVs under an accelerated acquisition program that could support missions including mine countermeasures; anti-submarine warfare; and intelligence, surveillance and reconnaissance (ISR) (Defense Daily, April 1, 2019).
The Snakehead is being designed to provide ISR and anti-submarine capabilities and intended to be deployed from both ports and platforms like LCSs and Virginia-class attack submarines.
In May, the Navy released the Request For Proposals for the MUUV. The service plans for the MUUV to be modular with plug-in capabilities and payloads for various missions and be deployable in two configurations. The Razorback Torpedo Tube Launch and Recovery configuration is based out of submarines while the Maritime Expeditionary Mine Countermeasures UUV configuration based on the Mk 18 is surface vessel-based and will provide surface-launched and recovered mine countermeasures (Defense Daily, May 22).
"The fleet work and the CNO-directed Navy work will together, over the next two to three years, have us well-positioned to transition to programs of record," the Navy said.