President Trump on Wednesday evening signed a stopgap funding bill to keep the government open through Dec. 11, after the Senate passed the measure earlier in the day by a vote of 84 to 10.
The continuing resolution includes an exemption allowing the Navy to move forward on procurement of the first two Columbia-class submarines and extends the deadline for defense contractors to submit COVID-related claims for reimbursement out to that December date.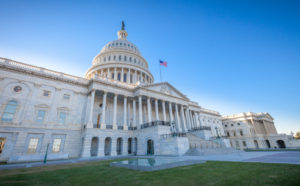 "This bipartisan continuing resolution will keep government open, prevent a devastating shutdown, and allow additional time to negotiate full-year appropriations bills," Rep. Nita Lower (D-N.Y.), chair of the House Appropriations Committee, said in a statement.
The proposed CR does not include two additional defense-related anomalies that the White House had requested, omitting provisions to fund initial development of the W93 submarine-launched nuclear warhead and a call to transfer several accounts from the Air Force's budget to the new Space Force (Defense Daily, Sept. 21).
James Geurts, the Navy's top acquisition official, has already signaled the service will have to seek further exemptions if the CR is extended beyond Dec. 11, specifically another waiver for the Columbia-class submarine program (Defense Daily, Sept. 23).