Delivery of a KC-46 refueling tanker has been delayed due to a "minor electrical problem" on the aircraft, which was scheduled to arrive at Pease Air National Guard Base in New Hampshire on Sept. 25.
The delay came up during a Senate Subcommittee on Readiness and Management Support Hearing on Thursday, where Ellen Lord, the Pentagon's top acquisition official, called KC-46  an "extremely problematical program."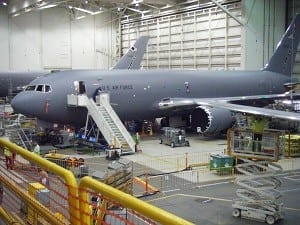 "It's not a design or safety-of-flight issue. In flight, one of the radar warning receivers is indicating a fault through the plane's fault management system," Larry Chambers, a Boeing spokesman, told Defense Daily. "We think it may be a poor electrical connection that needs to be re-seated. We are currently evaluating a fix. Resolving this has caused a minor delay to delivery of this single airplane. Boeing expects to conclude this activity within the next several days and is working with the Air Force on a new delivery schedule."
Sen. Jeanne Shaheen (D-N.H.), who brought up the delayed delivery during the hearing, pressed Lord on Boeing's ongoing challenges with the refueling tanker program.
"I've spoken to a whole number of officials from Boeing and from our military leadership as recently as last week…all of whom have assured me that we've had good conversations between DoD and Boeing and that as the problems are being worked out, we're not going to continue to see these challenges. And yet, we've got another aircraft that's not being delivered because of another problem," Shaheen said.
Lord said senior DoD leadership will continue paying careful attention to the program to address lingering issues, and she faulted the use of a fixed-firm price contract award as ill-fitting for the issues that need to be resolved.
"One issue is, frankly, the technical solution that was the original design and it's now being redesigned. But also, we have had a myriad of manufacturing issues with [foreign object debris]. We have both an engineering, design and execution issue as well as a manufacturing problem," Lord said. "At this point with KC-46, it will take very careful senior DoD attention. Secretary [Mark] Esper and I have both spoken to the CEO of Boeing, as well as Leanne Caret, but Dave Calhoun as well. And we will do that on a frequent basis."
In June, the Air Force said it has pushed back KC-46's timeline for Initial Operational Test & Evaluation, as well as delaying a full-rate production for the program until at least fiscal year 2024 (Defense Daily, June 10).