AeroVironment [AVAV] on Thursday unveiled a "bigger, faster and more effective" version of its man-portable, tube-launched Switchblade loitering missile, which the company said has already garnered interest from several DoD customers.
The larger Switchblade 600 is part of AeroVironment's new family of loitering missile systems, which includes the legacy Switchblade 300 and the new Blackwing, a small loitering munition that can be launched from submarines.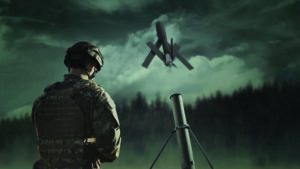 "Our family of loitering missile systems is redefining and disrupting a multi-billion dollar missiles market," Wahid Nawabi, the CEO of AeroVironment, told reporters during a briefing. "The ability to identify a threat in the battlefield, assess and confirm the threat in real-time during flight, neutralize the threat with an extremely high degree of precision, with low to no collateral damage while always having the option of waving-off the mission and re-engaging the same or a different target, is at the core of our solution set capabilities."
The announcement arrives following the Army's decision in May to award a $146 million contract, beginning with an initial $76 million order, to AeroVironment to deliver its Switchblade 300 for the Lethal Miniature Aerial Missile System (LMAMS) program (Defense Daily, May 14). 
Nawabi said the LMAMS contract is the largest ever for loitering missiles to date.
Todd Hanning, the company's product line manager for tactical missile systems, said Switchblade 600 is the product of meeting DoD customers' interest in a system similar to the 300 but with greater effects.
"With enhanced effects, greater standoff range and extended endurance, this all-in-one man-portable solution includes everything required to successfully launch, fly, track and engage non-line of sight targets with lethal effects," Hanning said. "[With an] onboard anti-armor warhead, Switchblade 600 has the firepower to take out armored vehicles and entrenched soft targets without the need for external ISR fires assets."
Hanning said the 50-pound Switchblade 600, which has gone through two years of flight testing, has a range of over 40 kilometers, can fly for 40 minutes and has a dash speed of 150 miles per hour.
For comparison, the Switchblade 300 weighs 5.5 pounds and can fly for just 15 minutes with a dash speed of 100 miles per hour.
Brett Hush, senior product line general manager for tactical missile systems, said Switchblade 600 has been developed alongside several DoD customers but said the only one he could mention now was the Marine Corps.
AeroVironment is currently competing in the first phase of a Marine Corps' loitering missile program with Switchblade 600, with a fly-off scheduled for January, according to Hush.
Hush also noted AeroVironment is under contract with the Navy to deliver its Blackwing loitering munitions.
"Blackwing is packed with miniature avionics and sensors to accomplish this mission of providing actionable intelligence to the operator. It uses both electro-optical and infrared sensors to be able to operate in both day and night conditions," Hush said. "In a sense, Blackwing can create its own network in the middle of the ocean, connecting surface ships to undersea vessels whether they're manned or unmanned."
Hanning added AeroVironment is exploring new artificial intelligence and advanced computing capabilities to further expand the company's new family of loitering missile systems portfolio. 
"From AI to autonomy, we're not stopping here. We're investing in future technologies like edge computing and artificial intelligence engines, latest-generation video processing and massive computing power. We believe it will be the smartest loitering missile in the market," Hanning said.