The Army has awarded AeroVironment a $75 million deal to continue delivering its Switchblade backpack-able loitering munitions, with deliveries to start this September.
The deal, officially awarded on April 30, covers Switchblade explosive drones for both the Army and Marine Corps, and includes two one-year option periods to extend the contract out to 2023.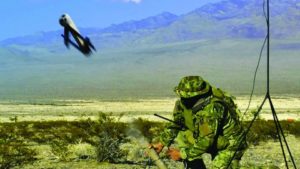 "For nearly a decade, AeroVironment's Switchblade has delivered unmatched force protection and precision strike capabilities at the battlefield edge to the U.S. Army," Brett Hush, the company's senior product line general manager for tactical missile systems, said in a statement. "We will continue to enhance the capabilities of this battle-proven product, and stand ready with a proven supply chain and customer support system in order to respond effectively to U.S. and allied customers' needs."
AeroVironment's Switchblade is a rapidly deployable explosive drone and includes a six-pack launcher with precision strike capabilities to reach up to 10 kilometers.
The Army first awarded a rapid fielding contract for Switchblade in 2011, and the Marine Corps placed its initial orders for the weapon in 2012.