House Democrats' proposed stopgap spending bill to keep the government open through Dec. 11 includes an exemption allowing the Navy to move forward on procurement of the first two Columbia-class submarines.
The continuing resolution, which is likely to receive a vote this week, would also extend the deadline for defense contractors to submit COVID-related claims for reimbursement out to that December date, with the program window currently set to end on Sept. 30.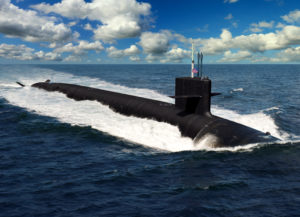 "While the House did its job and passed bills funding nearly every government agency, Senate Republicans did not even begin the appropriations process. Because of their irresponsibility, a continuing resolution is sadly necessary," Rep. Nita Lowey (D-N.Y.), chair of the House Appropriations Committee, said in a statement. "This clean continuing resolution keeps government open while giving Congress additional time to negotiate annual appropriations bills that will invest for the people."
The exemption for the Navy would allow the service to receive $1.6 billion for the submarine program, with a CR typically blocking the Pentagon from starting new programs and locking in spending levels from the previous fiscal year.
The Navy's top acquisition official told reporters earlier this month that an anomaly in the CR for the submarines would be required to keep the program on schedule (Defense Daily, Sept. 4).
In June, the Navy awarded General Dynamics Electric Boat [GD] an $869 million modification for continued Columbia-class ballistic missile submarine (SSBN) procurement work with an added price option for the first two submarines that would increase the total contract value to $9.5 billion (Defense Daily, June 22).
The proposed CR does not include two additional defense-related anomalies that the White House had requested, omitting provisions to fund initial development of the W93 submarine-launched nuclear warhead and a call to transfer several accounts from the Air Force's budget to the new Space Force (Defense Daily, Sept. 8).
The bill, however, is unlikely to gain Republican support due to its exclusion of a bailout program for assistance to farmers.
"I originally thought today I would be speaking on a bipartisan negotiated continuing resolution. Unfortunately, it appears that [Speaker of the House Nancy Pelosi (D-Calif.)] is now making unilateral decisions and going in a different direction. Despite all sides reaching a deal regarding what would be included in the CR, the text we just received removes key provisions agreed related to the Commodity Credit Corporation and extension of the pandemic EBT food assistance program. This is an unfortunate and unnecessary outcome in my view," Rep. Tom Cole (R-Okla.), the House Rules Committee ranking member, said on Monday.