Last month, the Navy awarded the U.K.'s BAE Systems a contract worth up to $189 million for full rate production, maintenance and technical services for underwater Archerfish Destructor mine neutralizers.
Under this award from Aug. 21, BAE will produce the devices as well as cover maintenance, spare and repair parts and evolution of the Archerfish Destructors. The company is set to manage destructor configuration and integrate new or upgraded capability as well as assess destructor configuration for application to in-service upgrade efforts.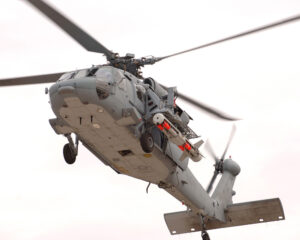 While the base contract award is $20 million, it includes options that, if exercised, would raise the total value to $189 million. Work will largely be performed n Portsmouth, United Kingdom and is expected to be finished by January 2023. If the options are exercised, that work would continue through 2027.
Archerfish is part of the AN/ASQ-235 Airborne Mine Neutralization System (AMNS) deployed by MH-60S Navy helicopters. AMNS is due to be deployed as part of the mine countermeasures mission package on Littoral Combat Ships or other platforms.
AMNS is made of the Raytheon Technologies [RTX] Launch and Handling System (LHS) supported by the helicopter and the expendable neutralization vehicle destructors. The LHS manages destructors during helicopter transit and launch and can carry up to four destructors per mission. The MHS also provides communications between the destructors and a common console.
Archerfish is a remote-controlled underwater mine neutralizer that can be launched and operated from a surface vessel, helicopter, or unmanned underwater vehicle. It features a fiber optic data link to relay real-time, low-light, high resolution video and high frequency sonar pictures of targets via on-board sensors.
The Defense Department contract announcement noted the contract was not competitively awarded in accordance with U.S. Code regulations as a sole-source basis award.
On Monday, the company underscored this is the fourth Archerfish contract for the Navy in a row since 2003 and BAE will deliver the mine neutralizers to the service for seven years.
BAE argued the Archerfish design reduces the time needed to identify and neutralize targets, so mine clearance missions can finish faster.
"This contract builds on our strong partnership with the U.S. Navy which has seen BAE Systems supporting its minesweeping operations for almost two decades. Archerfish not only helps to keep sailors safer, it also reduces the number and cost of mine clearance missions," Brooke Hoskins, director of products and training services for BAE Systems' Maritime Services business, said in a statement.
The company said Archerfish was developed with its own investment and uses an open architecture command and control system that can either operate on its own or be integrated in a higher-level command management structure.
BAE said it is still making investments in Archerfish to defeat future mine countermeasures and reduce the through-life cost of the system.
"Innovative fusing will allow it to be recovered and reused and an automatic target recognition function is being developed that will allow concurrent multi-shot Archerfish operations, enabling mines to be neutralized in waves," the company said in a statement.
The Archerfish is manufactured at BAE's U.K. Broad Oak facility in Portsmouth, Hampshire and Hillend facility in Dunfermline, Fife.