The Pentagon is considering options for owning and operating its own 5G networks, with a new solicitation out seeking industry's input on solutions for dynamic spectrum sharing under the potential plan.
A new Request for Information (RFI) notice released on Sept. 18 also calls for ideas on how the department can make additional portions of its current mid-band spectrum available for 5G uses faster.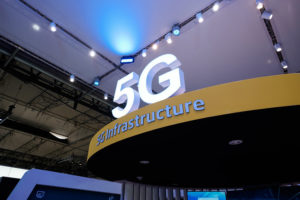 "DOD's partnership with industry is imperative in this extremely technical and competitive field. What we learn in this effort has potential to benefit the entire nation and keep the U.S. as the global leader of 5G technology for many years to come," DoD CIO Dana Deasy said in a statement.
At the top of DoD's list of questions included in the RFI is a call for industry's thoughts on the department exploring the possibility of owning its 5G networks for domestic operations.
The RFI then notes the department would be open to sharing additional mid-band spectrum beyond the 3450 to 3550 MHz band it has previously said it would make available.
In August, the White House announced plans to begin auctioning off that 100 megahertz of spectrum band in December 2021 to be ready for use by mid-2022 (Defense Daily, Aug. 10).
"The scope of this effort covers the broad range of spectrum DoD currently uses in order to understand both the art of the possible, as well as current industry trends in spectrum utilization," the department wrote in the RFI notice. "This scope includes all approaches to spectrum management, including the best methods for sharing spectrum with both military and civilian users."
The department is also seeking industry's input on other areas of the low and high-band spectrum ranges that could be shared for 5G purposes, as well as technologies that could be utilized to share spectrum faster.
Deasy said earlier this summer the Pentagon is readying to award three dozen contracts by the end of the fiscal year, totaling more than $180 million, for its first group of 5G pilot programs, which includes experimentation with smart warehouses at Marine Corps Logistics Base-Albany in Georgia and Naval Base San Diego, augmented and virtual reality at Joint Base Lewis-McChord in Washington, and dynamic spectrum sharing at Hill AFB in Utah (Defense Daily, July 30).