The White House said Monday it will make a section of military-use mid-band spectrum available to the commercial sector, with plans to begin auctioning it off in December 2021 and ready for use by mid-2022. 
The 100 megahertz, covering the 3450 to 3550 MHz band, has been considered critical to establishing U.S. telecommunications firms' 5G network plans, with the administration and the Pentagon working to ensure the space won't conflict with military operations.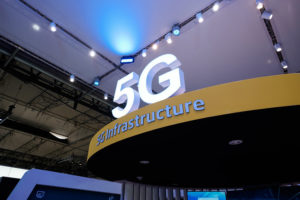 Michael Kratsios, the White House's chief technology officer, told reporters ahead of the announcement the slice of mid-band spectrum has "the ideal characteristics for 5G deployment," and called this the fastest transfer ever of federal spectrum for commercial use.
"Importantly, this particular part of the band, 3450 to 3550 megahertz, has been identified because it can be made available without sacrificing our nation's great military and national security capabilities," Kratsios said.
Kratsios was also recently named as the Pentagon's acting top technology official following the resignation of Mike Griffin (Defense Daily, July 13). 
Dana Deasy, the DoD CIO, said this effort included a 15-week process to establish a spectrum-sharing framework and detailed the current military applications that fall within that section of mid-band spectrum.
"The 3450 to 3550 MHz band supports critical DoD radar operations, including high-power defense radar systems on fixed, mobile, shipboard and airborne platforms.  Capabilities for these systems include air defense, missile and gunfire control, counter mortar, bomb scoring, battlefield weapon locations, air traffic control and range safety," Deasy told reporters. "With the additional 100 MHz, the U.S. now has continuous 530 MHz of mid-band spectrum in 3450 through 3980 MHz to enable higher capacity 5G networks."
Senior administration officials told reporters the Pentagon will work with industry to ensure the mid-band spectrum space can be shared without creating an impact on critical radar requirements.
The auction, to be conducted by the FCC toward the end of 2021, is expected to cover some of the costs associated with ensuring DoD is able to share the spectrum band.