The Navy commissioned the Independence-variant Littoral Combat Ship USS St. Louis (LCS-19) on Aug. 8.
The commissioning occurred with a private event rather than the usual large public due to the COVID-19 pandemic. LCS-19 is the 22nd LCS, 10th Freedom-variant LCS delivered to the Navy and the seventh Navy ship of the name.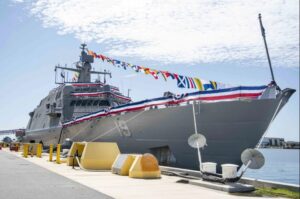 The ship completed acceptance trials last December in Lake Michigan. This ship, like all Freedom-variant LCSs, was built by Fincantieri Marinette Marine in Marinette, Wis., under prime contractor Lockheed Martin [LMT] (Defense Daily, Dec. 19).
The St. Louis was delivered to the Navy in February (Defense Daily, Feb. 7) and then arrived at its homeport of Mayport, Fla., in July ahead of this commissioning (Defense Daily, July 24).
"St. Louis brings speed and agility to the fleet. Congratulations to St. Louis' captain and crew for all of your hard work to reach this milestone. You join a proud Surface Force that controls the seas and provides the nation with naval combat power when and where needed," Rear Adm. Brad Cooper II, commander, Naval Surface Force Atlantic, said in a statement.
During the ceremony, commander of U.S. Southern Command Adm. Craig Faller underscored LCS ships are important for his command's geographic area.
"The littoral combat ship has proven to be an effective and adaptable platform capable of multiple missions in our area of responsibility. It has become an end-game enabler for U.S. Coast Guard law enforcement authorities who disrupt transnational criminal organizations and the smuggling of deadly narcotics. Adding the LCS to our Enhanced Counter Narcotics Operation is helping save lives," he said.