The Navy awarded Huntington Ingalls Industries [HII] another $352 million modification for more early production period work on the USS Boise (SSN-764) attack submarine overhaul.
The Los Angeles-class SSN-764 has become the poster child of submarine maintenance delays. While it was originally scheduled to enter the Norfolk Naval Shipyard for extended maintenance in 2013, it was repeatedly delayed due to heavy workload repair schedules. In 2016, the submarine's certification for normal operations expired.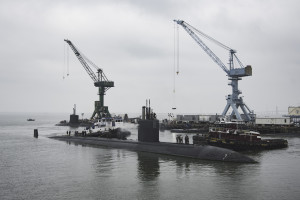 In 2017, the Navy finally awarded a contract to HII to conduct the depot maintenance rather than try to fit it into a public shipyard (Defense Daily, Oct. 20, 2017).
According to the Defense Department announcement, this latest modification covers "continued advance planning, execution services, production and availability preparations for the USS Boise engineered overhaul."
The modification includes options that, if exercised, will raise the total value of the contract to $355 million. Work is expected to be finished by May 2023.
The full modification amount was obligated at time of award via FY 2020 Navy operations and maintenance funds and will expire at the end of this fiscal year.
The Boise first arrived at HII's Newport News Shipbuilding facility in June 2018, when the work was expected to last through 2021 (Defense Daily, June 22).
However, the submarine was further delayed due to previous cost overruns and delays to the maintenance schedules of the Los Angeles-class attack submarine USS Helena (SSN-725) at Newport.
Once work on Helena was finished, USS Columbus (SNN-762) went into drydock at HII's Newport News Shipbuilding.
In late 2019, former commander of Naval Sea Systems Command Vice Adm. Thomas Moore told reporters the Boise was slated to enter the same drydock the Columbus was docked at for maintenance in the April 2020 timeframe.
The Boise finally moved into the Newport News Shipbuilding drydock in May.