Navy officials unveiled a new prototyping effort Tuesday to integrate sensors and payloads into a single unmanned maritime project, the Rapid Autonomy Integration Lab (RAIL).
RAIL is being led by Capt. Pete Small, program manager of the unmanned maritime systems office. It aims to help test and integrate new and updated autonomy capabilities for use in various unmanned surface vessels (USVs) and unmanned undersea vehicles (UUVs).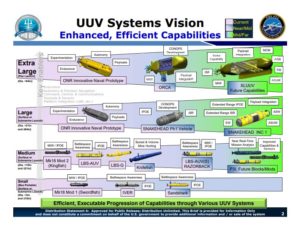 RAIL focuses on laying foundations because the technology is moving so quickly the Navy will have to update obsolete software and hardware within platform lifetimes, Small said during the virtual AUVSI Unmanned Systems conference Tuesday.
This comes after the Navy started working on unmanned maritime hardware and software standards, particularly the Unmanned Maritime Autonomy Architecture (UMAA).
UMAA aims to standardize autonomy interfaces, enabling commonality and reducing acquisition costs across surface and undersea unmanned vehicles.
Those types of standards "are in support of achieving our vision by which if we have a new sensor or a new boutique autonomous capability, we can insert that into any one of our vehicles. And if it's really good we might be able to use it across our vehicles," Small said.
He explained the standardization efforts in the unmanned space is "about setting us up to do what we need to do and that's really going to come to fruition in the RAIL…because all of those sensors and technologies and payloads come together at the autonomy level on the vehicle. So in order to do those upgrades we're going to have to integrate the software that comes with the payloads."
Small said RAIL has already started with a prototype project.
"We're actually going to take a third-party autonomy behavior that's been developed by [the Office of Naval Research] and we're going to integrate that on to an existing UUV that's running basically an industry proprietary software baseline."
Then, the project will bring them together, run the cybersecurity and software testing tools, try to deploy that system on an unnamed UUV platform, and then test it in the water.
If that first step goes as planned, the Navy would then develop the program infrastructure to work on different sized vehicles and programmatic efforts.
Small said if the initial prototyping effort works out, his office will then develop the budget profile and programmatics and it would appear in the FY 2022 budget request.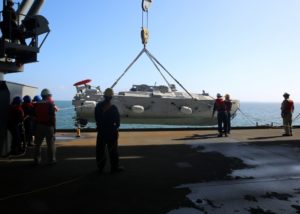 Small underscored the same behavior the Navy might want in a small UUV could also be useful in a large UUV, with the vessels just having a different payload capacity.
He envisioned RAIL as where the Navy brings together platform software and payload/mission software. Then they will test them from a cybersecurity perspective, do actual software integrating and then test in the lab.
This testing will include both software-in-the-loop testing and modeling and simulation "such that we can validate the integration of those software pieces and the actual predicted performance of the vehicle based on that new software baseline prior to moving them into hardware-in-the-loop testing and ultimately delivery."
RAIL would certify and deliver new autonomous software baselines with increased and enhanced capability "such that we're sure that this is going to work out and give us the capability you want."
Small noted he is often asked where the RAIL office will be but said they "don't envision it to be a big brick building with a sign that says RAIL on the front. But it will be a collaborative network of cloud-based infrastructure, modern software tools that we're looking across."
He admitted there will be a certain footprint for the actual software developers working on integration, but not a big new location effort.
Cmdr. Jeremiah Anderson, deputy program manager for unmanned underwater vehicles, added the Navy will further explain RAIL to industry in the next virtual UMAA industry day on Sept. 24.
Last year, the Navy first issued a request for information proposing the industry days for UMAA (Defense Daily, Feb. 21, 2019).
The first three UMAA industry days were in 2019, whereas the fourth was in early 2020 and the Navy made it virtual early on in the COVID-19 pandemic. This next industry will also be virtual due to the pandemic.
Anderson said this will be a good opportunity to get the RAIL message out more broadly to stakeholders.