The Navy's top acquisition official said the service is reassessing the timeline for the future aircraft carrier USS John F. Kennedy (CVN-79) due to both the COVID-19 pandemic and the switch from a dual to single-phase delivery plan.
James Geurts told reporters during a phone press roundtable Wednesday that "obviously we are watching with some concern, the workforce levels at all our shipyards, but in particular at Newport News there, given the relatively high number of cases in there."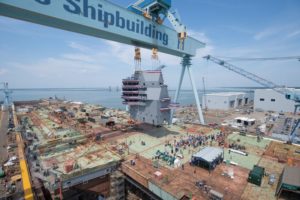 During a quarterly earnings call with Huntington Ingalls Industries [HII] last week, President and CEO Mike Petters said in the second quarter attendance by hourly production employees averaged about 65 percent across both the Newport News Shipbuilding facility in Virginia and Ingalls Shipbuilding in Mississippi. However, by the end of the quarter through July, the number has settled around 77 percent after the end of their liberal leave policy (Defense Daily, Aug. 6).
Petters also noted "now cases have been increasing in our shipyards as states have opened up, but we are now seeing a sustainable and manageable level of attendance, and we continue to refine our policies to adapt to the changing circumstances."
Geurts said the Navy is trying to understand the impacts from both COVID and moving to a single-phase delivery for CVN-79 and then "understanding the opportunity that going to a single phase delivery puts together and then leveraging that opportunity to build a more efficient schedule from here on out for that ship."
Last October, Geurts first said the Navy was considering moving the second Ford-class aircraft carrier from a dual to single-phase delivery. The original delivery style was meant to get the ship to the service faster to replace the aging USS Nimitz (CVN-68) by the time it is retired in the mid-2020s (Defense Daily, Oct. 31, 2019).
That previous plan would have CVN-79's hull, mechanical and electrical construction be delivered by mid-fiscal year 2022, but take another several years for testing and additional construction before it was ready to deploy. The second phase of construction would cover things like the Enterprise Air Surveillance Radar and procure and install electronics as late as possible to preempt obsolescence management later.
Then, in March, Geurts' office said the Navy decided to move to single-phase to help mitigate schedule risk and reduce post-delivery costs. The phase change was not expected to change the final delivery schedule of 2024 (Defense Daily, March 27).
On Wednesday Geurts said the single-phase delivery plan negotiations are currently underway and underscored the Navy is taking into account the productive hours they are now seeing on CVN-79 work at HII, taking lessons learned from the USS Gerald R. Ford (CVN-78) and building new systems like the Advanced Weapons "and applying those to the program."
Last year, Geurts' spokesman Capt. Danny Hernandez noted the Navy expected a 16 percent reduction in man hours from CVN-78 to CVN-79 (Defense Daily, Feb. 1).
Back in 2017, then-program manager for CVN-79 and 80 Capt. Doug Oglesby said CVN-79 was requiring 18 percent fewer production man hours than the Ford.
Geurts on Wednesday said, "I'm less worried about is it X percent less man hours than 78. I'm more worried, focused on outcome base. Are we achieving the outcomes that we want to have, from delivering that ship in the time and phasing that we want more so than just is it 16 percent less man hours than 78?"
"They're obviously related, but as we look to a single-phase delivery and understand what the current workforce dynamics are in COVID I think there's a way we can do that in a smart way that can help mitigate some of the direct impacts of COVID," he continued.
Geurts also said as the Navy adjusts for the CVN-79 single-phase delivery and defense authorization act language requiring F-35 Joint Strike Fighter modifications "we will adjust the program one time in whole for that, as opposed to trying to piecemeal different elements of it."
He sounded an optimistic note that the Navy can accomplish that "in a meaningful way that will not create a high disruption to the program."