The Army on Thursday successfully took down two cruise missile surrogates using its future missile defense command platform, the first of two demonstrations during Limited User Testing to inform a production decision this November.
Army officials called this the most complex test to date for the Integrated Battle Command System (IBCS), built by Northrop Grumman
[NOC], which is slated for initial fielding in fiscal year 2022.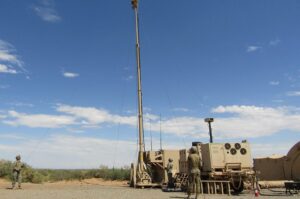 "What happened today was multiple sensors, multiple shooters and a command and control system that identified, classified and passed a track to the right shooter," Gen. Mike Murray, head of Army Futures Command, told reporters. "This is a major, major milestone, not only for the air defense community but for the Army as a whole. I'm fully confident we're on the road to a successful IOT&E in about a year's time."
The Limited User Test, which will wrap up next month and include another live fire test next week, follows a failed attempt four years ago as a result of software challenges, which ultimately led to restarting the IBCS effort.
Col. Phil Rottenborn, project manager for PEO Missiles and Space, said Thursday's test involved two Patriot radars, two Sentinel radars, three Patriot launchers and two battery command posts "communicating in real time over seven different fire control network relays, all within one closed system," IBCS' Integrated Fire Control Network.
The test resulted in taking out two cruise missile surrogates with two PAC-3 CRIs. While working a contested environment with simulated jamming attacks, it demonstrated the Army's push to reduce the number of interceptors required to meet objectives and prove out the "joint kill web" concept.
"I would characterize this as one of the most significant pieces of how we're going to employ air defense since the birth of Patriot in the last 40 years," Col. Tony Behrens, capability manager for Army Air & Missile Defense Command, told reporters. "As you're starting to use terms like 'joint kill web,' what that really means is that every single echelon now can see the exact same thing because they're using the exact same platform. And all of the systems that are on the network, wherever they are and regardless of whatever echelon we're talking about, can all utilize those sensors to make decisions."
Murray noted that IBCS is expected to play a major role in the Army's contribution to the Joint All-Domain Command and Control concept, being worked now by the services, with the next steps focused on integrating its future Indirect Fire Protection capability and LTAMDS radar into IBCS.
The Army last completed an IBCS flight test In December, which was the final developmental test and involved taking down two cruise missile surrogates and linking the platform with Patriot and Sentinel radars, Marine Corps sensors and two Air Force F-35s (Defense Daily, Dec. 13).