The Army on Thursday completed a successful final developmental test with its future missile defense command platform, taking down two cruise missile surrogates, as the program moves toward operational testing in 2020.
The intercept demonstration was the fifth flight test of the Integrated Air and Missile Defense (IAMD) Battle Command System (IBCS), being developed by Northrop Grumman [NOC], and included linking Patriot and Sentinel radars, Marine Corps sensors and participation from two Air Force F-35s.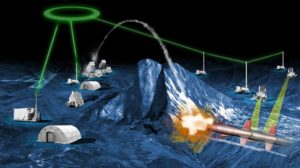 "We are extremely proud of the Soldiers who executed the test today and the performance of the system," Col. Phil Rottenborn, the Army's IAMD project manager, said in a statement. "This test marks the first time soldiers conducted a live engagement using IBCS in a developmental test, and demonstrates soldier and system readiness for transition to the operational test phase."
IBCS is the Army's program to field a new next-generation missile defense control network that integrates the service's full range of "sensor to shooter" capabilities, with plans to field an initial capability in 2022 (Defense Daily, Jan. 7). 
The latest test was conducted at White Sands Missile Range in New Mexico with soldiers utilizing the the Army's missile defense radars, as well as Marine Corps and Air Force sensors, to track the cruise missile surrogates and take down the targets using PAC-2 missiles.
Army officials have previously noted IBCS' open architecture design expanding the capacity for air and missile defense interoperability with the joint services.
Thursday's flight test specifically utilized the Marines' operating the TPS-59 radar and serving as the Link-16 operators to provide early warning and engagement data, in conjunction with sensor information from the two Air Force F-35s that participated in the demonstration.