Deputy Secretary of Defense David Norquist on Thursday said next week he is presenting the findings of a top-level future naval forces study to Defense Secretary Mark Esper.
Speaking at the virtual Defense News conference Thursday, Norquist confirmed earlier this year Esper asked him to lead this naval study. He worked with the Navy, Marine Corps, Joint Staff, Office of the Secretary of Defense and unspecified "outside advisers" to build three different future fleets.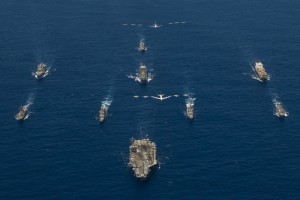 "We examined ships and Marine units we have and those we might build by 2045. We looked at their cost, their analytical capabilities and we war gamed different combinations of ships and maritime forces against different future missions and challenges," Norquist said.
He added he received the latest inputs that day and is presenting the findings to Esper, which will "inform our future investments and wargaming."
Norquist framed this effort as part of the DoD's larger effort to explore how to use and integrate new technologies into new warfighting concepts.
"We want to make the sum greater than the parts," he added.
The Navy was originally due to submit its annual 30-year shipbuilding plan and periodic Integrated Naval Force structure Assessment (INFSA) along with the FY 2021 budget request. However, in February Esper told the House Armed Services Committee he first wanted to review the 30-year plan (Defense Daily, Feb. 26).
"I'm awaiting its presentation to me. It's my report," he said. "Once I have had a chance to review it and digest it … at the appropriate point in time, I will share with you what I believe our future force structure should look like," Esper told the panel.
Separately, former Acting Navy Secretary Thomas Modly told the committee once the INFSA was finishing, Esper wanted to see how it and the 30-year plan would impact each other before submitting either to Congress (Defense Daily, Feb. 28).
At the time, Modly said DoD would hopefully submit the plan "in a couple of months."
"As you think about this '21 budget, you'll have plenty of information and enough time to be able to do that," Modly added.
Then, in March, Modly confirmed Norquist was leading this effort to look at the Navy's future force within the overall military force (Defense Daily, March 26).
The House panel's displeasure at the continuing delay resulted in a provision in the House's version of the FY '21 defense authorization bill that would restrict 75 percent of the Secretary of Defense's operation and maintenance funds until the 30-year plan was delivered to Congress. This largely covers the office's travel budget (Defense Daily, June 23).
The bill would also restrict any ship retirements until the INFSA is delivered to Congress.