Germany's Rheinmetall said Sept. 10 its new $2.4 billion combat vehicle deal with Hungary will cover delivery of 218 Lynx infantry fighting vehicles, as well as nine Buffalo armored recovery vehicles.
Details of the new contract, which will make Hungary the first customer for the Lynx IFV, follows the company's announcement last month of a new joint venture with the Hungarian armed forces to produce the vehicles in the country (Defense Daily, Aug. 18).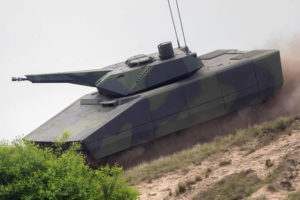 "Rheinmetall is very proud to be able to make an important contribution to the sustained expansion of Hungary's defense technology capabilities in cooperation with local industry. We look forward to working together with our Hungarian friends and partners, and will do everything in our power to assure the long-term success of this venture," Armin Papperger, chairman of Rheinmetall's executive board, said in a statement.
A first phase of production will cover vehicles built in Germany, and include delivery of 46 Lynx vehicles and the nine Buffalo vehicles by the beginning of 2023.
The second phase will shift production to Hungary and cover the remaining 172 Lynx vehicles, according to Rheinmetall.
"Looking ahead, Rheinmetall sees further potential orders stemming from this contract. Given an expected service life of several decades, the Lynx will require spare parts and regular maintenance in order to remain operationally ready," the company wrote in a statement.
Rheinmetall noted the Lynx platforms will be equipped with its manned 30mm Lance turret.
Lynx IFV is the same platform Rheinmetall, along with Raytheon [RTX], offered for the Army's initial attempt at the Optionally Manned Fighting Vehicle (OMFV) program.
During the Army's initial prototype search for the Bradley-replacing OMFV, officials disqualified Raytheon and Rheinmetall's Lynx offering after the two companies were unable to deliver a bid sample by the proposal deadline (Defense Daily, Oct. 14 2019).
The Army has since canceled that OMFV search and restarted the competition, releasing a draft RFP in July with plans to award up to five contracts next summer for digital design prototypes (Defense Daily, July 17).