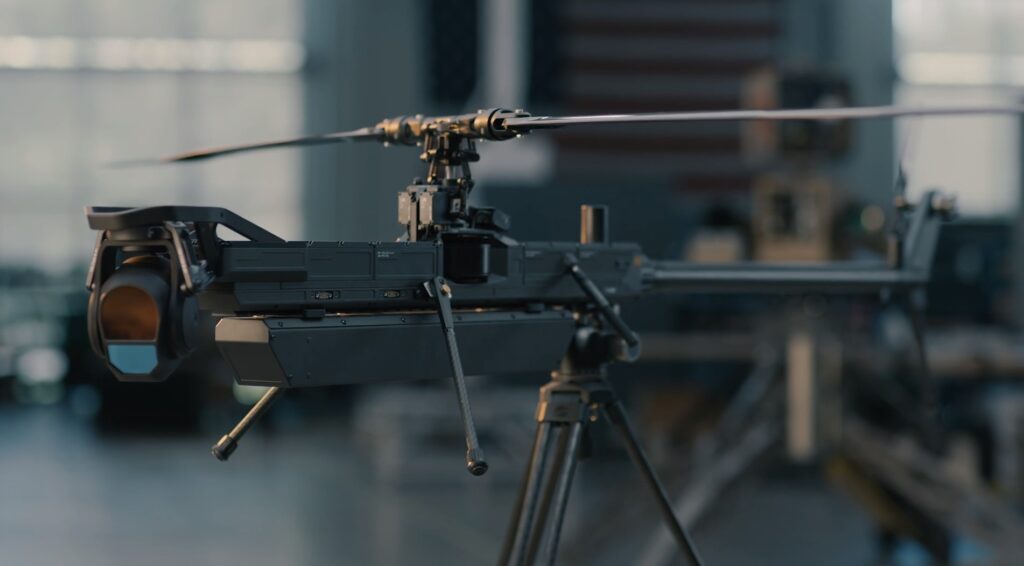 Anduril Industries this week released Ghost 4, the latest iteration of its American-made small UAS designed for military and commercial use. According to company founder Palmer Luckey, it is "the best drone there is."
Designed like a skeleton of a helicopter, Anduril opted for a single rotor over a multicopter setup to achieve lower disk loading, greater endurance and a quieter acoustic signature. The drone can fly for over 100 minutes with real mission payloads, according to Anduril, with a max payload capacity defined as "dozens of pounds" and a frontal cross-section smaller than some phones.
A launch video for the Ghost 4 shows the drone's modular payload system equipped with electronic warfare, simultaneous localization and mapping (SLAM), loudspeaker and other payloads; Luckey said it can support "five standard payload modules on the top and as many as space and weight allow on the bottom." The drone is also shown taking off while soaking wet, multi-mission capable and resistant to sea sprays.
"Ghost is incredibly rugged, a mix of well-machined metals and carbon fiber composites with a direct-drive motor and minimal wear components," Luckey wrote in a blog post. "We weren't trying to set flight endurance records – our top priority was to make something that could survive neglect, desert heat, arctic cold, high winds, heavy shock, abusive combat environments, and submersion in salt water."
The drone is designed "from the start" for swarming and teaming, according to Anduril, with one operator able to control many airframes across a vast distance by fusing data from thousands of sources into a common operating picture. It's also supposedly autonomous — a trait claimed by every drone manufacturer these days — with the operator able to "rely on Ghost to reliably perform all kinds of tasks for them, even when communications are jammed or turned off to avoid detection."
Perhaps the most revolutionary statistic released by Anduril is that Ghost's onboard AI core is capable of performing 32 trillion operations per second, enabling the aforementioned autonomy, teaming and multi-mission capabilities.
"The processing is all aboard the airframe, can't rely on fat data pipes in contested environments!" Luckey commented on Twitter.
Release of the Ghost 4 comes as the Pentagon and U.S. government continue to stress the importance of creating sUAS products and supply chains fully independent of Chinese companies to counter its longstanding dominance of the market.
The Defense Innovation Unit (DIU) recently launched Blue sUAS, a kind of military vetting program that cleared five U.S. and allied drone models — Altavian's IONM440C, Parrot's ANAFI USA, Skydio's X2, Teal Drones' Golden Eagle and Vantage Robotics' Vesper — for safe and secure use by the rest of the government.
All the components used in Anduril's technology are made either in the U.S. or allied countries, or can be replaced with ones that are, according to Luckey. Ghost 4 almost certainly will not compete with China's DJI drones on cost, but it will certainly exceed them on capability and reliability provided to warfighters.