Huntington Ingalls Industries [HII] is using new digital model techniques to construct Ford-class aircraft carriers, starting with the future USS
Enterprise (CVN-80), which is set to be the first vessel built entirely with digital models. The company is using the same technique for some submarine programs, a company official said last week.
 "Construction of the Enterprise has been ongoing for several years. We are actually going to be putting the first steel unit in the dry dock at the end of April, so if you walk through the north yard in Newport News right now you see pretty much every square inch of our steel facility and our final assembly plant full of Enterprise units that are being heavily outfitted and ready to start erection of the ship here in just over a month," Brian Fields, HII vice president of aircraft carrier construction for CVN-80 and 81, told reporters during the West 2022 conference on Feb. 18.
The future USS Enterprise (CVN-80) and Doris Miller (CVN-81) are being procured under a two-ship block buy contract to lower costs and increase production and downstream procurement efficiencies.
Fields said the company is "heavily investing in digital technology for our shipbuilders" by using laser scanners to create 3-D models of how to construct the vessels.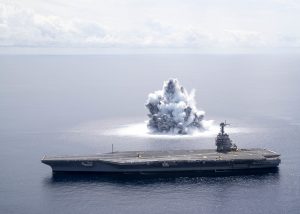 "These new digital work tools will have the builders using laptops to see how the work looks in 3-D instead of first having to learn how to interpret 2-D paper drawings.
"These digital instructions are in 3-D, with step by step instructions on how to do the job you're assigned. We're seeing really good feedback from not just our new younger shipbuilders but our more senior shipbuilders," Fields said.
He said the digital models aim to provide clearer meaningful information that allows the shipbuilders to spend more time building and less time finding the information they need.
"Instead of having to take 2-D information off paper and turn it into 3-D in your head, it's there in front of you. It provides the mechanics a lot clearer picture of what they are expected to be doing. It helps with first time quality; it helps the younger craftspeople who sometimes – we find it takes as much time to learn how to read drawings as it takes to develop the craft skills. So that's probably the biggest difference."
Fields said this is the first time HII is providing computer access to a majority of the hourly workforces.
"So this has been a generational investment for us to not just give them 3-D information, but also the ability to have laptops on the job, which opens up things like better communication to their supervisor, access to procedures and new information; all the things that are going to be provided to them will allow them to be more efficient."
He said in contrast to the CVN-80 work, the first two new class carriers, the USS Gerald R. Ford (CVN-78) and future USS John F. Kennedy (CVN-79), were and are being built using traditional paper drawings in 2-D. The system was not ready for these two ships, so the paper drawings were generated from the original 3-D models.
CVN-78 is currently undergoing a Planned Incremental Availability following full ship shock trials before it prepares for its first deployment. Last month, Rear Adm. James Downey, the Navy's program executive officers for aircraft carriers, said CVN-79 was about 85 percent complete and the Navy expects ship acceptance on schedule in 2024 (Defense Daily, Jan. 24).
Fields said much of the improvements are centered around finding the most efficient way to sequence building the ship, looking for opportunities to restructure the build sequence, and build and test more systems earlier in the construction process.
"We spend a lot of time and thought on how to design and build Ford, but we've found, as every first of class ship, as we got into it that…there's a better way to do this. Let's capture this and roll it into the plan for the next ship."
Fields argued the company sees the digital model method as a "generational investment for us, it's not just going to benefit CVN-80 and 81 construction programs, but it's also being leveraged in our standard approach with the new Columbia [ballistic missile submarine, SSBN] construction program that we're just beginning."
Fields said HII is seeing future ships classes they build will use this digital information and technique to construct them more efficiently and "we see a lot of opportunities to change how the ships are maintained and modernized over the next century."
He said the toolsets HII is using on the Ford program are the same being used on their portion of work for the Columbia-class submarines.
"So we're investing in a standard set of digital products, so if you're an electrician or a pipe fitter on…Enterprise and you go over to Columbia, it should be the same look and feel of the information, the digital work construction. We anticipate that this investment allows us to innovate and invest in a single set of processes and tools that allows us to get more and more efficient."
However, Fields said the Virginia-class attack submarine is different and they cannot use the 3-D model standard there due to the source of the data and product model being very different. 
"That makes it a lot more challenging to leverage the same standards, processes and tools that we're currently developing. But we do look for every opportunity to provide, if not fully functional 3-D digital products, light versions of them, if possible."
Fields also said as the Navy looks to develop the SSN(X) next generation attack submarine HII plans to ultimately plug that program into this current digital modeling to further these investments.