The Navy plans to study the configuration of the future Ford-class aircraft carrier CVN-82 in 2022 as part of an overall analysis of the future carrier force.
The delayed 30-year shipbuilding plan, released last week, outlined a aircraft carrier force of 11 aircraft carrier by 2045 with the option of potentially adding up to 6 light carriers as well (Defense Daily, Dec. 10).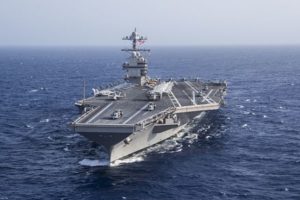 This was a reflection of former Secretary of Defense Mark Esper's study directing a new look at the future fleet that called for 8-11 carriers with up to six light carriers (Defense Daily, Oct. 6).
The Navy and DoD might alter future carrier plans due to concerns the ships will increasingly become high profile targets for China in a potential military conflict.
In fiscal year 2022, the Navy will analyze the carrier force "that will both inform anything we want to do to modify our current plan for CVN-82 and/or forward if there's something in there – what we might potentially do with an alternative carrier," a senior Navy official told reporters on Dec. 10, referring to the light carrier as an alternative concept.
"So I look at this as additional study to go which will kind of inform both of those once we kind of have that study output then we can adjust the plan if needed going forward."
Beyond the larger carrier study, the official said in the shorter term this could change CVN-82 before work starts on it in several years.
While the future USS Enterprise (CVN-80) and Doris Miller (CVN-81) are still on the current 30-year shipbuilding plan and are being procured under a two-ship block buy contract to lower costs, the service plans to start spending money on advance procurement for CVN-82 in FY '26.
"That money is still in the budget. What is a little different here is we're going to do some work – we intend to in '22 – to analyze and ensure the configuration we had intended for CVN-82 is still the configuration that best meets the future force structure," the official said.
That FY '22 analysis could then lead to design or construction changes for CVN-82.
Based on all the analytics the Navy has done already, the study will assess it to "ensure that's the configuration we want and that if we do make some changes, we've got plenty of time between now and that first dollar plan for CVN- to make a change."
The official also said nothing in the Navy's plans would prevent repeating the two-ship carrier block buy option with CVN-82 and the next aircraft carrier after it.
"There's nothing in this plan that would obviate that opportunity," the official added.