The State Department has approved a potential $2.37 billion deal with Taiwan for up to 100 Harpoon Coastal Defense Systems (HCDS), which includes 400 Harpoon Block II surface-launched missiles.
The Defense Security Cooperation Agency (DSCA) notified Congress of the foreign military sale on Monday.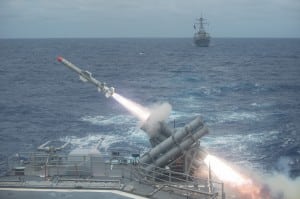 "The United States maintains an abiding interest in peace and stability in the Taiwan Strait and considers the security of Taiwan central to the security and stability of the broader Indo-Pacific region," a State Department official said in a statement. "Our longstanding policy on defense sales to Taiwan remains consistent across seven different U.S. administrations, and contributes to the security of Taiwan and the maintenance of peace and stability across the Taiwan Strait."
Under the deal, Taiwan will also receive four Harpoon Block II exercise missiles, missile containers, HCDS launcher transporter units and 25 radar trucks.
"This proposed sale will improve the recipient's capability to meet current and future threats by providing a flexible solution to augment existing surface and air defenses. The recipient will be able to employ a highly reliable and effective system to counter or deter maritime aggressions, coastal blockades, and amphibious assaults," the DSCA wrote in a statement.